Emily Maynard on Family and Holiday Traditions
Emily Maynard of 'Bachelorette' fame on how she makes the holidays sensational as a single mom.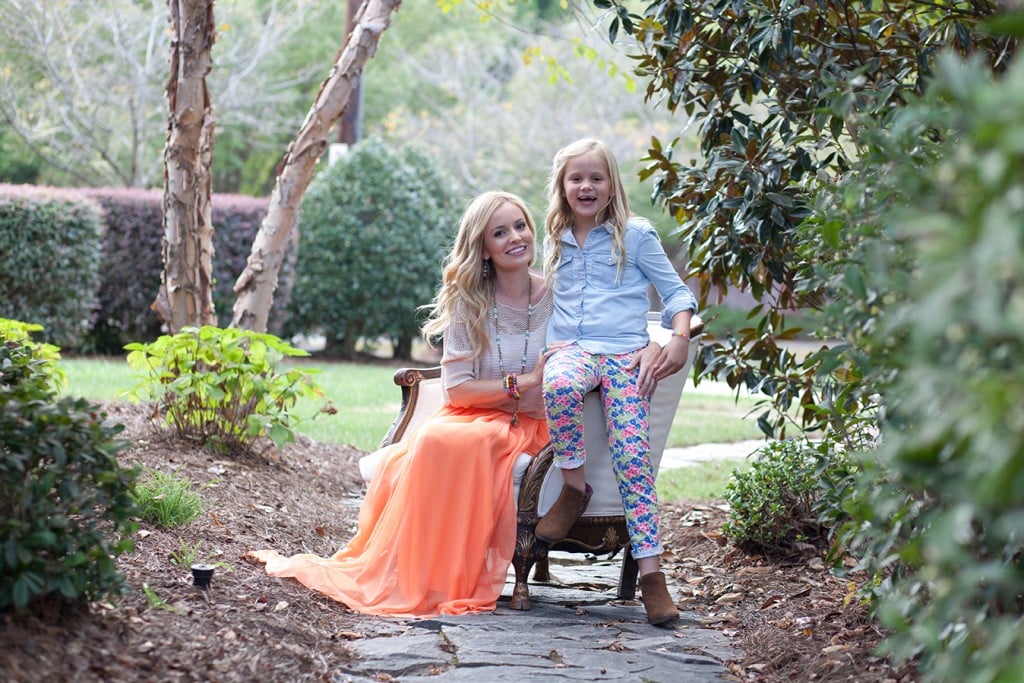 Emily Maynard is known as being many things. She's the most popular female figure in "The Bachelor" franchise history. She's the beautiful subject of endless tabloid speculation, even now, more than a year after she starred as "The Bachelorette."
The role that Maynard has always been most comfortable playing, however, is mom to 8-year-old daughter Ricki Hendrick.
For the five or six of you out there who have not heard the story, Maynard was engaged to racecar driver Ricky Hendrick when he was killed in a plane crash. Days later, Maynard discovered she was pregnant.
Daughter Ricki has never known her father, and Maynard has never experienced a day of her life when she wasn't a single mom. We sat down at a local Starbucks to discuss her life now, and how she and Ricki make the holidays special.
Q. What is life like for you and Ricki around the holidays?
Honestly, for the first couple years after Ricki was born, it was really hard for me to get into the whole holiday spirit. Any mom will tell you that it's easier to be the child than the parent at the holidays, and I also just had this heaviness in my heart every holiday season. But once she got to an age where she could understand Christmas, I wanted to give her traditions, the same ones my mom gave me, and it brought out the Christmas spirit in my heart, too.

Q. Are there any special traditions that you and Ricki celebrate around the holidays?
We do some of the usual stuff, like cookies for Santa, and we always go to church on Christmas Eve and we go over to Ricki's other grandparents — I call them my in-laws but they're really like my own parents. Then the next day they come over and help her put together all the toys I didn't know how to do!

Q. As a single mom, what are some of the challenges you face around the holidays?
It's hard because it's all on you, it's a lot of pressure. I remember my mom and dad having fun putting out all the presents — my dad would take some jobs, my mom would take others. That's hard to do as a single parent.
Q. Who do you turn to for help?
I feel like, I had Ricki at such a young age — you learn to do a lot on your own. But I think that God never gives you more than you can handle, so you learn to do it. But, I have my Life Group (through her church), and I lean on them a lot. Sometimes it's just nice to know you're in it with someone else. My mom is always saying, "Just wait. One day you will be married and you'll look back on the days where it was just you and Ricki and be thinking, 'That was the time of my life.'" My big thing is — during the holidays but also every day — I try to wake up really early and do my Bible reading, and I pray every day that [God] would help me see the world through his eyes. That helps me realize what the holiday season is all about. My faith really keeps things in perspective, 1,000 percent.
Q. Has faith always been part of your life, or is that more recent?
It's definitely always been a huge part of my life, but in the last couple years, looking back on the show — even though things didn't turn out exactly as I wanted — it's such a blessing because it really strengthened my faith and my relationship with God.
Q. Do you host holiday celebrations or are you a guest?
I am not much of a cook! I'm trying, but at the holidays, no way. I think that would be what pushed me over the edge!
Q. How do you manage personal relationships and social invitations as a single mom, especially around the holidays?
Ricki goes to her grandparents once a week, so I kind of have the day to do whatever I want. I may get together with friends or get everything done that I need to. I'm a homebody, so that's my favorite thing to do — just stay at home. People are like, "You have one night out! You should go out and do something!" But that's what I like to do.
Q. When do you think is a good time to introduce a boyfriend to your daughter?
That's something I've struggled with. It's hard, and I don't think there is any right answer. I try not to rush it, and Ricki has met very few guys I've dated. I think it's best to introduce him as a friend. I think that moms just know. Sometimes you get it right, sometimes you don't, but you learn.
Q. Do you have tips for other single moms about making time for themselves, as well as making the holidays special with their kids?
Ricki goes to bed early. That's something I hope that all of my kids, if I ever have any more, will adhere to. That's when I get everything done. Also, a huge part of my life is giving back, and I think it's so important to instill that quality in my daughter. We donated coats to A Child's Place, and getting an angel of the Angel Tree — that's the time we enjoy together the most.
Q. What are your favorite holiday childhood memories? What do you want to try and continue with Ricki?
Every year, my mom would hide a ring in an ornament on the tree. Then, for my 16th birthday she had all of them put on a charm bracelet. So I've been doing that with Ricki.
Q. So, moving on…what are your must-have holiday wardrobe essentials?
I really like to wear shorts, because they're so easy, so I'll take a pair that I wore all summer, like a black pair. Just put tights under them, and a black sweater, and dress it up with sparkly jewelry. That's really easy and a classic look.
Q. Do you have any traveling tips?
I'm a professional packer. I'm really organized, and I use these cubes from Sharon Luggage. I even have everything labeled, like, "Monday outfit." I was tired of getting to all these places and having nothing to wear!
Q. Do you have a favorite piece of jewelry?
My charm bracelet from my mom, and my mom had a ring made out of my grandpa's tie tack. And any piece of jewelry that Ricki's dad gave me is special.
Amy Salvatore Reiss is a freelance writer and mother of two who lives in Davidson. Her favorite holiday tradition with just her and her girls is taking them to see "The Nutcracker" at Blumenthal Theater each year.
Read more: Emily Maynard's Holiday Jewelry Picks