Elijah Aschbrenner Dies From Cancer
The Charlotte community rallied around 10-year-old Concord boy with "Prayers for Elijah."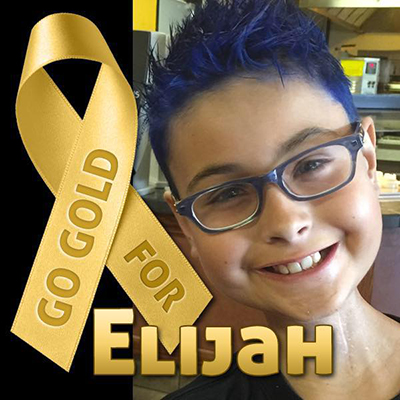 It was with a heavy heart that I read the Facebook status posted on the "Prayers for Elijah" page this morning.
"At 10:52 p.m. my baby went to be with Jesus. Our lives will never be the same; but because of him our lives were forever changed."
I first became aware of Elijah Aschbrenner, a 10-year-old Concord boy battling Epitheliod Sarcoma, a rare form of cancer, several months ago when a friend shared his Facebook page. Then, a church member asked our Sunday School class to keep Elijah, who lived in her neighborhood, in our prayers.
I'll admit I had a hard time reading the story of the boy with the blue hair and beautiful smile at first, as he is very close in age to my own son and the two seemed to share a lot of the same spunk. But I was touched as I read about the way the community rallied around him, and showed support in the most creative of ways. Photos on his Facebook page show him on participating in the Martin Truex Jr. Foundation's Catwalk for a Cause fundraiser for pediatric cancer (alongside Dale Earnhardt Jr. and Danica Patrick). And in September, fearing he wouldn't live long enough to see Halloween, his favorite holiday, his friends and neighbors threw him a spectacular celebration, complete with a visit from Panthers' quarterback Cam Newton.
There are really no words to say at a time like this, only that my heart goes out to his family during this difficult time, and I will never forget how the community of Charlotte wrapped Elijah in its collective arms. Rest in peace, Elijah.