Eight Ways to Excite Your Spouse on Valentine's Day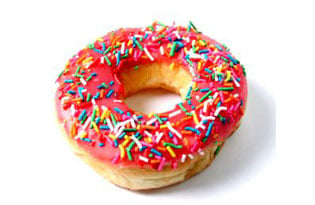 After 13 years of marriage, I've concluded that the one thing that makes men the happiest is when their wives are NOT spending money. So on Valentine's Day, hundreds of men in America will get their wish. However, it is Valentine's Day … and doesn't no money = no gift?
Well, that's not exactly the case here.
Who says you have to spend your hard earned cash (or in some cases, his hard earned cash) to show your #1 guy you love him? I've managed to muster up eight ways to show your adoration for your knight in shining armor – all for $10 or less!
1. For breakfast, bring home a dozen Krispy Kremes and promise to make no mentions of fat calories or cholesterol for the entire day.
2. Frame his fantasy football roster and hang it above the mantel for him to admire.
3. Give him a day from doing any home projects. After all, doesn't that college boy down the street need a little extra cash? (You know, the one that could double for Brad Pitt?)
4. Decorate the living room with his old trophies from high school and (eye-rolling not allowed, ladies) listen intently to the stories about his glory days.
5. Tell him the hot girl at the hardware store asked about him (lie if you have to.)
6. Rent The Hangover, and tell him from time to time how much he reminds you of Bradley Cooper.
7. Create a playlist with theme songs from Caddyshack, Greatest American Hero, Rocky and MASH.
8. And of course, at the end of the day under the sheets … make sure to give him a 5 second warning before you plant your cold feet all over his body.
You're welcome, ladies … Now chop-chop!
Written by Stephanie, of Southern MOMentum, a collaboration of sleep-deprived, Gen X gals who started out as friends and became grounded together in a wonderfully, challenging journey called motherhood … some Southern by birth and others, transplants, who fell in love with front porch swings and sweet tea. Each mom contributes her unique blend of witty, realistic approaches by encouraging moms to put away their SuperMom cape and enjoy the journey of motherhood!