Early College Prepares Students for Future Success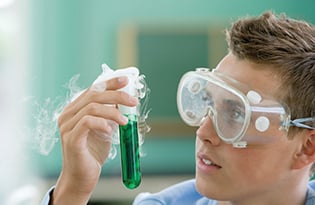 We hear all the time that we live in an ever-changing economic environment. The traditional manufacturing jobs our parents' generation relied on are gone or have become more specialized. And whether you live in a large city or a small rural town, the global economy means we're all connected in ways we couldn't have been just a few years ago. All of this change creates new challenges for public schools, whose mission is to prepare students for successful careers and fulfilling lives.
In North Carolina, our department of education is constantly evolving its curriculum and creating learning opportunities to educate and prepare the leaders of tomorrow. One way North Carolina is doing this is through the early college system, which started in 2004 with 13 campuses through a partnership between the North Carolina Department of Public Instruction, the North Carolina Community College system and the University of North Carolina system. Today the program has grown to include 76 early colleges. Early college offers students the opportunity to receive a high school diploma and an associate degree in arts or science all within four years, with concentrations in science and engineering, health and medicine, or liberal arts. Students graduate with the tools and skills necessary to move on to the next phase in their life, whether that is entering the workforce or going on to complete a four-year college degree.
How Does Early College Work?
For parents who already struggle with getting their kids to buckle down and study, it might seem almost impossible to expect a child to do the work necessary to complete six years of school in four years, but the tailored curriculum and specialized teaching processes of early college help ensure success. According to Joyce Loveless, early college director at North Carolina New Schools, there are core classes each student takes to complete the ninth- and 10th-grade levels, and then the college courses the students enroll in count as high school credit as well. "That's where the dual enrollment comes into play," Loveless says. "For example, a student taking British literature is still meeting high-school requirements, they're just doing it through the college."
A Focus on Learning
In addition to graduating with two degrees, students in early college also benefit from individualized teaching within a small-school setting. Early colleges are allowed no more than 100 students per grade level, and most classes have between 75-80 students. "We've really been able to change how teaching and learning happens in these settings and make it more engaging," Loveless says.
Early college students are often encouraged to work together as groups, to talk with members of the community and complete internships. "You find that these students mature rather quickly," Loveless says. "A 16-year-old might be sitting next to a 19- or 40-year-old in any given class, giving them the opportunity to learn from others and build their own self-confidence."
Is Early College Right for My Child?
Early colleges were created with the goal of targeting first-generation college students and students at risk for dropping out with support networks that help them learn about opportunities available that they might not be exposed to at home.
The challenging curriculum and small class size is also appealing to high achievers who might not enjoy the traditional high-school experience. Dylan Caskie, a 2014 graduate of the Early College at Guilford, came to his parents during his eighth-grade year and asked their permission to apply for early college. "He saw it as a challenge and really liked the idea of being able to take college classes," says his father, Mark Caskie.
Early college might be a good fit for your child if he is self-motivated, eager to excel and good with time management.
"The work load can get pretty tough, but if you have a student who is motivated they will be able to organize their time well," Caskie says. "The sense of freedom and independence the students get from being on a college campus and taking college classes goes a long way toward providing motivation."
Weighing the Pros and Cons
If your child is interested in early college, make sure he or she is looking at the big picture. Early college has many benefits, including small class sizes, a challenging environment and the ability to graduate with two degrees. But there are some differences that might matter to your child. While most of the schools have some sort of dance or spirit week, there isn't the big prom night or homecoming celebration. Team sports are left up to the traditional high schools as well, but most do have a program allowing early college students the chance to participate in sports at their home high school. Extracurricular activities also are limited at early colleges.
Loveless reminds parents that early college isn't an either/or proposition. There are plenty of opportunities for students in traditional high schools to take college courses, they just don't graduate with a separate degree. It all comes down to figuring out the right path for your child, and each one is unique.
Karen Alley is a freelance writer with two school-aged children who keep her aware of the need to be educated about their academic opportunities.

Applying for Early College
The application process for early college varies by school, but most require at least a completed school application, report cards from seventh and eighth grades, attendance records, and end-of-grade test scores. Some also require letters of recommendation. Applications are due anywhere from the middle of December to the end of February.
Early College Options in the Charlotte Area
Charlotte Engineering Early College, Mecklenburg County
College for Technology and Leadership, Iredell County
Gaston Early College High School, Gaston County
Rock Hill School District Early College, York County
Union County Early College, Union County
Find other North Carolina early college opportunities at ncnewschools.org.