Downsized Families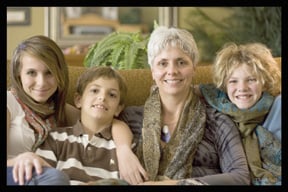 It came out of the blue for Ila Jane Jelenick. The request from her manager to come to a closed-door meeting at the end of the day seemed unusual, but Jelenick didn't have much time to wonder if anything was amiss.
"I was so incredibly busy at work," she remembers. "I didn't see it coming."
But on that October afternoon, Jelenick joined the legions of laid-off workers in the Charlotte area. Her job wasn't the only one the advertising firm eliminated that day, but Jelenick says she still feels stunned.
Heather and Lance Bartles found themselves reeling from such news three months earlier. Lance was downsized from his job as an insurance broker last July.
"It was definitely unexpected," says Heather, a stay-at-home mom in Matthews with two children ages 4 and 6. Now, the Bartles are dealing with the same challenge that faces thousands of families all across the region ? finding practical and positive ways to handle the devastating effects of being laid off. If your family is confronted with the same situation, here are six steps to help you survive during difficult times.
Take a Deep Breath
First, realize the layoff was not your fault. Downsizing is generally about many things, including the overall state of the economy and reducing corporate overhead. It is rarely about individual performance. Be patient with yourself, because this step can take some time.
"I had to wrap myself around it," says Jelenick. "It was hard to believe I was never going to sit in that chair again."
Tell the Kids
Jelenick also says she "dreaded coming home" the day it happened. As a single parent of three children, ages 8 to 14, she knew the news would be hard on her kids, because they knew how much she loved her job.
"Telling your kids about a parent's job loss is a very personal choice and depends in large part on the child's age," says Mary B. Moore, a licensed clinical therapist in Charlotte. "Children need to feel secure and safe, so it is very important not to overwhelm them."
Moore suggests focusing on the aspects of the layoff that affect the children the most. For instance, explain what changes there may be in the family routine if one parent will be home more often.
After the initial shock of hearing about his mother's job loss, Jelenick says her littlest one perked up. "Now you can come have lunch with me tomorrow!" she remembers him saying.
Take Stock of Your Finances
Calculate your total available assets and get a general idea of how long you can support your family at your current rate of spending, based on whether or not you received a severance package and how much money you have in savings. If you don't already know what you spend each month, figure it out now. Keep in mind that while some discretionary expenses may decrease, other costs may go up.
Jelenick's health insurance costs soared when she and her children went on COBRA (the federal law that allows many employees to continue group coverage for up to 18 months after termination), and she headed to the bank. "I had to borrow money to pay for health insurance," she says incredulously.
Still, she counts herself lucky to have obtained the loan at all. Her efforts to manage her two largest monthly expenses — her mortgage and car payments — were not as successful. "All I asked for was maybe a month or two of deferred or interest-only mortgage payments," says Jelenick. But her requests were denied, in spite of her excellent credit rating.
In the struggle to pay monthly expenses, the tax man is probably the last thing on your mind. But there are some things you may want to consider. "North Carolina allows you to exclude up to $35,000 of severance pay from taxable income," says Jeff Fuller, a certified public account in Charlotte. In addition, he says some flexible spending account programs include a grace period that gives employees until March 15 to spend their FSA money.
Stop Spending, Start Saving
Extending severance, savings or unemployment benefits as far as possible is a primary goal right now for many Charlotte families. "One of the saddest parts is watching your savings go away," comments Heather Bartles. To stretch their funds as far as possible, she says the family slashed discretionary spending.
In addition, adjusting the thermostat to keep the house a few degrees cooler can make a noticeable difference on the monthly utility bill. Take advantage of the coupons and deep discounts offered right now by many stores, and get on mailing lists to receive special offers and notifications of sales. Don't hesitate to ask for membership discounts, such as those available through AAA or AARP. Check into reducing your cell phone bill. Get creative about the places in your budget where you can cut back.
For the Jelenick family, 2009 started with a family meeting about finances. "We will be doing nothing else but paying bills," says Jelenick. Gathering together at the kitchen table, she and her children came up with a strategy for the gift cards they received over the holiday from family and friends. "I told them these gift cards need to last – maybe all the way 'til next Christmas," says Jelenick. "It will take all that we have to get through. If we can't eat it or drink it, and we're not paying a bill, we don't need it."
Get Busy
Make sure your resume is in great shape, showcasing your talents and marketable skills. There are a number of job-search tools available, however, don't overlook the power of your personal network. Start spreading the word that you're in the job market among colleagues and friends. Think about former co-workers and college friends, too. And check out online networking sites, like Plaxo (www.plaxo.com) and LinkedIn (www.linkedin.com) to search for connections or relationships that might lead to an opportunity.
Jelenick is a believer, and says, "I'm sure it will be networking that finds my next position." She has dedicated herself to exploring every opportunity. "If I'm at the grocery store, I strike up a conversation with someone," she says. "I tell everyone."
Get Support
Surround yourself with friends who can help you stay positive and upbeat. Jelenick has found empathy in many places. "This is happening to everybody," she says. "I have conversations with perfect strangers and hear horror stories."
Staying positive may be the hardest part.
Jelenick remembers her former employer and co-workers fondly, "They were wonderful people to work for, like a family. This has been like a death for me." But she makes it clear that she is focused on new beginnings.
She's also found a silver lining. "I am getting to spend time with my kids that I haven't had in years!"
The Bartles family also is looking ahead with optimism. "I think things will get better, it's just hard to see right now," says Heather. Meanwhile, she says the family has "to be more creative, and everyone needs to stick together."
Photo: Courtesy of ThinkStill
Kimberly Paulk is a professional writer who lives in Charlotte. She can be reached at kpaulk@bloomwritingworks.com.