Down for the Count: 5 Ways For Mom To Survive Being Sick
Recommendations for prevention and treatment, and practical tips on how to get rest and stay sane.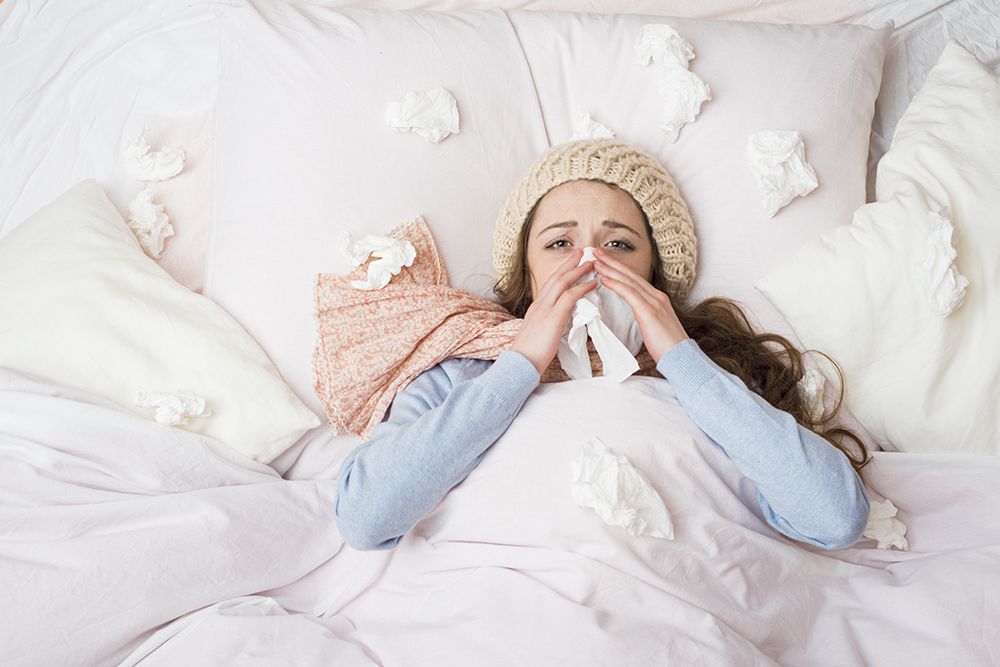 At the end of last summer, I caught a cold that developed into a six-week ear and sinus infection. After antibiotics and steroids, I finally was healthy. Even with my husband assisting, managing our household and three children was difficult.
Photos and tweets under #whenmomissick prove to me that I am not alone. When mom is sick, things go downhill. But there must be a way to make it better.
I just made a butter and cheese sandwich cause everything else in this house is moldy. #whenmomissick

— Ashley Vorwerk (@Sh1ee_) August 24, 2014
To get perspective, I spoke with two doctors about what they recommend for prevention and treatment. For practical tips on how to get rest and stay sane, I asked a few moms how they cope. Here's what I learned:
1. Avoid germs.
Dr. Anne Barnard, a physician with Carolinas HealthCare System, offers advice about how to stay cold-free.
"Prevention is key!" Barnard says. "Getting enough sleep (seven to eight hours) and eating healthy with a variety of proteins, fruits and veggies, as well as washing hands and using hand sanitizer, can help prevent illness."
---
2. Take healing seriously.
As a busy mom, it's easy to ignore symptoms. But when illness strikes, Barnard says you must drink plenty of fluids, get rest and eat healthy to get well. She also recommends regular low-intensity exercise.
"Visit your doctor for any shortness of breath or fever greater than 102 degrees. After five days, if a fever, cough or sore throat persists, see your provider," Barnard says.
---
3. Use shortcuts.
Adopting shortcuts when you're sick can provide time for rest. "I give myself permission to relax household TV and video game restrictions," says Cathy Mlinarcik, a Raleigh mom of four says. Other shortcuts to consider:
Take advantage of online shopping, takeout or a food delivery service.
Let the kids buy lunch from school for a few days.
Keep homemade or store-bought frozen meals on hand.
---
4. Enlist help.
"Thankfully I don't get sick often, but when I feel my worst, my family does all it can to help me feel better," says Carla Payne, a Wake Forest mom to two teenagers. "I know they care, but I also know they want me healthy as soon as possible!"
How can you enlist more help? Try these ideas:
Give your children more responsibility. Depending on their age, they can put away laundry or make lunches. Older siblings can help younger ones with homework.
Hire a sitter to help during critical times like dinner and bedtime.
Ask your spouse for assistance outside the normal routine, such as help with carpooling, homework or vacuuming.
Say yes to family and friends who offer help. You can always return the favor when you are well.
---
5. Get some rest.
Charlotte mom Faith White, who lives with a chronic illness, shares her philosophy about getting through the tough days: "Let little things slide — teeth won't fall out if they aren't brushed one night and the house won't fall down if it's cluttered and dishes are in the sink," she says.
Fit in a nap or two using these tips:
Avoid taking on extra work, volunteer hours or other commitments.
Use a personal or sick day to rest.
Cancel nonessential meetings or activities.
Lower your expectations about laundry, dishes and meals.
"The goal is for everyone to be safe, fed and changed (when diapers are involved)," White says. "Everything else can wait for me to be well."
---
Natural Remedies to Help You Stay Healthy
Dr. Crystal Abernathy of Abernathy Naturopathic Family Health Care suggests the following ways to combat illness:
Eat homemade chicken soup and crushed garlic.
Take supplements such as a probiotic and Vitamins C and D.
Use a humidifier with essential oils like Cinnamon or Eucalyptus.
Try a Neti Pot for sinus relief.
---
Vanessa Infanzon is a freelance writer in the Charlotte area. She is better prepared for her next illness since writing this article, and has downloaded an online grocery shopping app.