Double Up on Fun: Host a Dual Birthday Party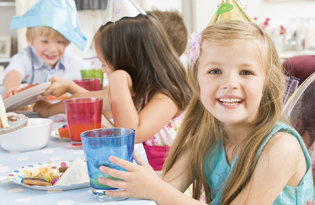 For a double-scoop of fun on your child's next birthday, why not host a dual party? Combined parties for siblings, cousins or friends with close birthdays are a growing trend, says Marnie Ann Pacino, author and illustrator of "Cool Party, Mom! The Other Three Words Every Mother Loves to Hear." With kids' parties becoming bigger, grander affairs, double parties let moms share the workload and the expense of birthday festivities.
Birthday parties are a much bigger deal than they used to be, says Pacino. "Between decorations, invites, favors, activities and food, it can be exhausting and expensive. Who wouldn't love some help running errands, cleaning up and footing the bill?"
For kids, a combined party often means a bigger party with more guests. "A potato sack race with 20 kids is bound to produce more giggles than the same race with 10 kids!" says Pacino.
Shared parties are also convenient for invitees' parents. Kathleen Yarbro combined birthday parties for Lilly, 3, and Chloe, 1, into one celebration because the girls' birthdays are 10 days apart.
"Most of the families we'd invite were the same for both girls," she says. "It made more sense to invite them all at once, instead of asking them to come over two weekends in a row."
Here's how to host a sweet soiree that your child (or children) will cherish for years.
Get Input
The first step to a successful double party is to ask the kids involved if it's what they want (if kids are too young to ask, it's probably a safe bet that they don't mind sharing the spotlight). Parents shouldn't assume that all kids want a combined party. Some children with very different temperaments – one who's high strung, and another who's more reserved, for example – may not make compatible party-mates. If the guests of honor are on board, give both kids equal say in planning decisions.
Theme Scheme
If the birthday kids can't agree on a theme, don't choose. Let each child pick a theme, and use both. When Christy Ramersrus hosted a double party for her two children, Joslyn, 7, chose a pony theme, and Carson, 4, picked Thomas the Tank Engine. Instead of deciding between the two themes, the family had separate decorations and a cake for each child in different rooms of the house. The theme combination was eclectic, Ramersrus admits, but the arrangement kept her kids happy and their guests entertained.
Gift Guidelines
To ensure that people aren't disinclined to attend because of the burden of purchasing two gifts, consider specifying simple gifts or setting a no-gift policy. A book exchange, where each guest brings a book to exchange in lieu of a gift, is a popular way to skirt the gift issue.
Solo Spotlight
Even at a combined party, kids still should be made to feel special. Two birthday cakes are a must, as well as taking turns being first during games and activities. At the Yarbro party, each girl got her own rendition of the "Happy Birthday" song and sat in a seat of honor to open gifts.
Double parties can be a blast, but they're not for everyone, Pacino notes. Sibling rivalry can be intense during certain times in a child's development. Solo birthday parties also give kids in large families a rare chance to be the center of attention; but for many kids, double parties mean double the fun.
Malia Jacobson is a freelance writer and mom of two.
Double the fun with these joint party themes:
Thing 1 and Thing 2
Dora and Diego
Princess and Knight
Cowboy and Cowgirl
Peter Pan and Tinkerbell
Max and Ruby
Humpty Dumpty and Little Miss Muffet
Spider-Man and Batman
Source: Marnie Ann Pacino, author and illustrator of "Cool Party, Mom! The Other Three Words Every Mother Loves to Hear."