Do the Dash for Down Syndrome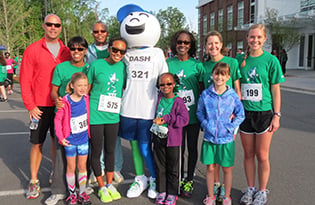 Put a little spring in your step with a family walk or run in the 3-2-1 Dash for Down Syndrome happening March 21, which coincides with World Down Syndrome Day and the first day of spring. The 5K and 1-mile fun begins at 8:30 a.m. at Blakeney Professional Center. It is hosted by Down Syndrome Association of Greater Charlotte, which raises funds for scientific research and advancements in Down syndrome education.
"The absolute coolest – and most memorable – thing about this race will be the 'extra,'" says Kathryn Lariviere, executive director of Down Syndrome Association of Greater Charlotte."
Just like people who have Down syndrome have an extra copy of the 21st chromosome, the run will have an extra finish line. The basic run course is the usual 5K or 3.1 miles, but if you run an extra .11 miles to the second finish line, you'll have run a 3.21 mile race."
More details and race registration information is available at dashfordownsyndrome.racesonline.com.