Discovering Star Wars 30 Years Late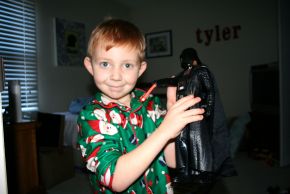 Discovering Star Wars – 30 Years Late My oldest son Tyler (5) dropped a bomb two weeks before Christmas. "I want a Darth Vader toy that you can dress up and play with," he said to me one day at pre school pick up. For weeks and weeks Tyler circled items in the Target and Toy R Us catalogs and talked about what he wanted for Christmas ad nauseum. Yes, there were a few conversations about a Star Wars Angry Birds Playset but nothing about Darth Vader. My biggest worry had nothing to do with finding the toy. My biggest issue at that moment is my lack of Star Wars knowledge.
I'm a geek, a nerd, a dweeb, whatever you want to call me but what I know about Star Wars is limited to Darth Vader, Luke Skywalker, R2-D2 and C-3PO. I must have spent too much time with GI Joe, The Transformers and Bob Barker to notice. Many will find what I am about to share both shocking and shameful. The only Star Wars movie I've ever seen all the way through is the original Star Wars which I'm told is now referred to as Star Wars Episode IV: A New Hope. I also saw a good bit of the Empire Strikes Back but don't remember a whole lot.
After a few more Star Wars talks, I quickly realize Tyler is already a little Wookiepedia. He knows everything about the characters (including some guy named Boba Fett), the Force and Ewok battle tactics. There's no way to fake it when you're asked, "When and why did Anakin become Darth Vader?" So instead of pulling something out of my rear end I replied, "I'm not sure. We'll have to figure that out together."
My worry has turned to excitement as I'll get to fully discover Star Wars with my son by my side. I'll get to see it through his eyes and experience much of it for the first time myself. That's pretty cool.
My wife and I talked about when it's time to start watching the movies with him and I'm thinking six or seven. I'm sure other kids his age have seen it already but I don't think he's going to be alone at the lunch table if he hasn't seen any of the movies yet. Santa brought the Darth Vader toy and we have purchased some of the early reader books that introduce the characters and the story in a very simple way. Simple enough that some things are coming back to me. Who's this Boba Fett guy again?
WCCB News Rising Co-Host Derek James balances a full-time job in the glamorous world of television news (including a 2 am wake up and stale coffee) along with managing chaos every afternoon for 5-year-old Tyler and 3-year-old Chase. See more from Derek on Facebook and Twitter. He also hosts the popular entertainment news and commentary segment called The Snark Report.