Discover Reptiles at Alligator Adventure in Myrtle Beach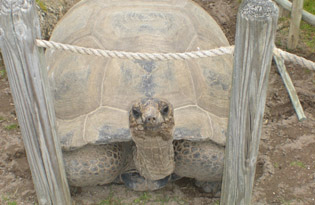 On our most recent trip to Myrtle Beach, S.C., during my 6-year-old daughter's spring break, we decided to check it Alligator Adventure. Adjacent to shopping-and-dining mecca Barefoot Landing in North Myrtle Beach, Alligator Adventure is one of the largest facilities for reptile life in the world.
We'd always assumed Alligator Adventure was more of a quick roadside attraction. But once we got inside the gates, we realized just how much the park has to offer. The park is a wildlife preserve that is home to alligators, crocodiles, tigers, snakes, frogs, birds, tortoises, lemurs and river otters. Guests are able to see these animals up close and learn about them through daily feeding shows and presentations.
Most of the park is outdoors, and guests walk along boardwalks. There are several areas offering shade and seating, as well as a snack bar and gift shop.
As the name promises, Alligator Adventure houses more than 800 alligators that range in size from 8-inch newborns to 15-foot adults weighing 500-1,000 pounds. In the main alligator exhibit pool, where more than 300 large adult gators live, staff members give daily talks on the life history of these ancient creatures. After the talks, kids can watch as staff members feed the large reptiles by hand and have a chance to see and touch a baby alligator.
The park is also home to Utan – King of the Crocs, the largest crocodile in the U.S., measuring 20 feet long. In a covered area, there are two rare albino alligators. There are fewer than 50 albino alligators living in the U.S. These "ghosts of the swamp" must live out of the sun due to their extreme sensitivity to UV rays.
If you also want to escape the sun, there is an air-conditioned, indoor serpentarium that houses several species of snakes. This area is not for the faint of heart, but my daughter was fascinated. You can see a giant green anaconda, the world's largest snake, which can reach an estimated maximum length of more than 37 feet, and the retriculated python, which rivals the anaconda in size. Many poisonous varieties are also on display, including the king cobra, which can reach 18 feet in length.
Another indoor area features dozens of rare and unusual reptiles. Gila monsters, African bullfrogs, komodo dragons, and many other species of frogs, lizards and turtles are on display.
Our favorite part was the Galapagos tortoises. We could not tear my daughter away from one particularly social tortoise who came right up and posed for photos with us.
Alligator Adventure is also home to more than 20 species of exotic birds housed in large habitats scattered throughout the park. Toucans, hornbills, macaws, cockatoos, Sarus cranes and many other tropical birds display beautiful colors and entertain guests with their songs. Once you've reached the end of the park, if you take the scenic route back to the entrance, you'll see a camel and donkey.
Compared to some other attractions in Myrtle Beach, the admission cost is reasonable. A nice benefit is that once you buy your tickets, you receive a Second Day Free Pass that is valid for one return admission within seven days after your initial visit at no additional cost.
Cristi Driver lives in Greensboro with her husband and one daughter.
If you go:
Alligator Adventure
4898 Highway 17 South
Barefoot Landing, North Myrtle Beach, S.C.
843-361-0789
alligatoradventure.com
Admission: Adults, $18.99; seniors, $16.99; children ages 4-12, $12.99; children 3 and under, free.
Discounts:
Active military personnel receive free addition with valid ID; active soldiers' guests will receive 1/2 off admission.
Check website and Myrtle Beach coupon books for seasonal promotions.
Receive a Second Day Free Pass that is valid for one return admission within seven days after your initial visit at no additional cost.