Discover Fall's Unexpected Wonders in South Carolina's Old 96 District
In Partnership With Old 96 District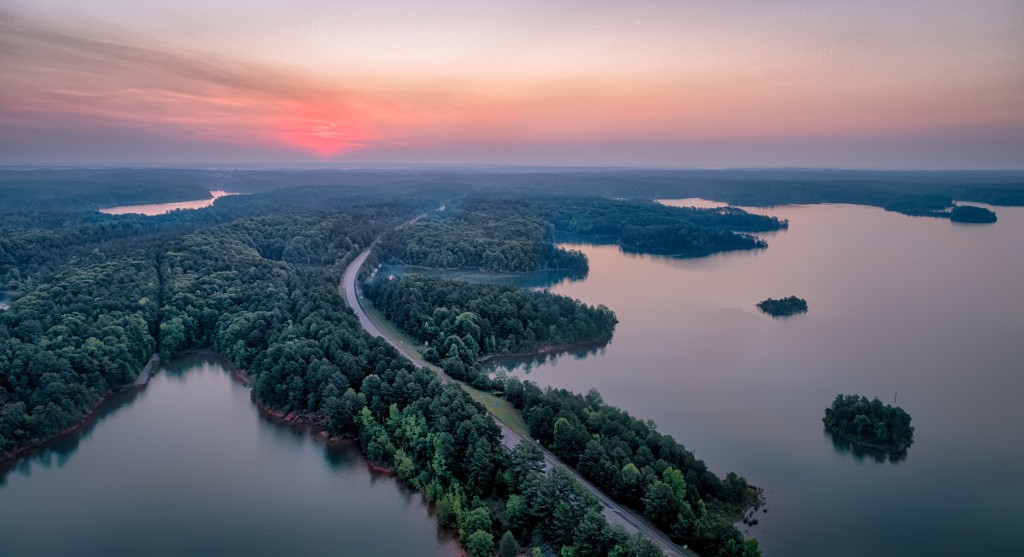 With summer on its way out and fall ushering in its cooler temperatures and festive foliage, there has never been a better time to plan your trip to South Carolina's Old 96 District. Ditch the crowds and take the backroads; enjoy life at a slower pace and breathe the fresh air in peace.
Discover the unexpected wonders of Abbeville, Edgefield, Laurens, and McCormick counties—home to 3 lakes, 6 state parks, and over 250 miles of hiking and biking trails! Whether you are looking for a new fishing spot, a hike with a view, or relaxing weekend in your camper, there is something for every kind of nature lover in the Old 96 District. Here are some of our favorite fall activities.
Walks and Hikes
For a casual stroll or for those wanting to take a hike without pushing it too hard, start with the Ten Governors trail in Edgefield, SC. The trail begins with a boardwalk over Slade Lake, then takes hikers past historic homes and monuments to each of the 10 South Carolina governors from Edgefield County. An easy two-mile round-trip hike!
For those looking for more of a challenge with a view, try Lakeview Trail in Hickory Knob State Resort Park. One of Old 96 District Tourism's rated Top Ten Best Trails, Lakeview Trail is about 6.7 miles and rewards hikers with panoramic views of Lake Thurmond.
Boating and Water Sports
Boating and fishing are some of the more popular activities in the Old 96 District, and for good reason! Among our three lakes, we are home to more than 100,000 acres of water. Besides the State Parks with lake access, there are also many marinas offering boaters access to the water. Bring your own boat, kayak, SUP, or rent any of the three once you get here for a fun fall adventure in the great outdoors.
Historical Sites
Did you know? Old 96 District is home to two different Revolutionary War battlefields, each with their own unique story. Explore the still-standing Star Fort at Ninety Six National Historic Site (the only one left of its kind!) where the siege of Ninety Six took place in the first Southern land battle of the Revolutionary War. At the Battle of Musgrove Mill State Historic Site, scenic trails run alongside the battleground. Learn the play-by-play of this battle… and its twist ending! See a full list of our local historic sites here.
Camping and Glamping
With so many State Parks and lakefront views at our fingertips, it's no wonder that there is so much great camping available in the Old 96 District. Sleep out under the stars in any of our beautiful campgrounds or State Parks listed here! For a little more of a "glamping" experience, Hickory Knob State Resort Park offers cabins and hotel rooms in addition to their campsites, skeet shooting, 18-hole golf course, and more.
Small Towns & Good Eats
While you're in the area, don't forget to take in the experience of small-town South Carolina. Take life at a slower pace and enjoy your time shopping locally, sipping wine at a nearby vineyard, or tasting some of our famous BBQ! Come Discover the Unexpected Wonders of South Carolina's Old 96 District.