Discover a World of Fantasy at Lost Hollow Children's Garden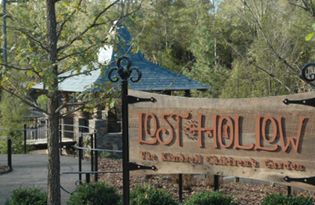 Daniel Stowe Botanical Garden brought to life Lost Hollow: The Kimbrell Children's Garden in fall 2014. Since then it has garnered the likes of young and old. The children's garden was created with the sole intent of broadening imaginations with hopes to produce interactive experiences in a natural environment.
Lost Hollow's 3-acre landscape is like a fairytale wonderland created with children ages 10 and younger in mind. From the 5-foot-high Fireplace Cave with glowing stars to the 12-foot-high rotating aviary that kids can use as a spinning play space, guests are able to create their own stories as they run along the connecting garden pathways.
The centerpiece of the garden is the Moon Keep surrounded by a moat and featuring flying buttresses. The castle-like structure is perched upon the highest hill in the garden, allowing young guests to survey the land below.
Gaze into the Sunken Pond below the Moon Keep to find a secret castle before walking over to the Hillside Theatre. As the name suggests, it is built into the hillside and is a place created for special story times or family friendly shows.
"Imagination really is the key to exploring this Garden," says Kara Newport, executive director of Daniel Stowe Botanical Garden. "But most important, the expectations of a typical botanical garden are tossed to the wind. We want children to touch the plants. We want them to climb on the rock walls. We want them to put their hands in the pond."
Like other spaces at Daniel Stowe Botanical Gardens, Lost Hollow has a variety of plants you'll come across as you journey through the unlocked kingdom, including fine-textured ornamental grass to Japanese maple, eastern red cedar and the native big leaf magnolias.
Landscape designer W. Gary Smith, who created the children's garden, says he "encourages visitors to use the given elements to spark their own imagination." Smith is credited with other creative gardens across the country, including the new children's garden at the Lady Bird Johnson Wildflower Center in Austin, Texas, and Enchanted Woods at Delaware's Winterthur Garden.
Celebrating the Seasons
Lost Hollow has become a family favorite especially during spring and at the holidays. During the winter months, Daniel Stowe Botanical Garden hosts Holiday at the Gardens. Families are encouraged to go on a nighttime adventure through Lost Hollow for a variety of crafts, activities, special appearances and performances. The same excitement happens in spring, when Peter Rabbit and his family hop around the garden.
In addition to the holiday events, each season the garden hosts a variety of programs for families to enjoy together. From organic vegetable gardening with the kids to Mommy/Daddy and Me Mondays, there's something for every family member to enjoy.ᅠ