Diary of a Grocery Geek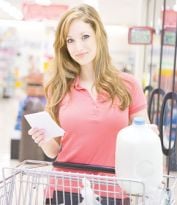 If you've paid attention at the store or the gas pump lately, you know that costs — they've been a-rising. Milk and gasoline have both hit more than $4 in some places, and the price of wheat, rice and other grain has also taken a jump.
However, even while food costs have increased over the last few months, my family is spending less on food — up to $400 a month less. How are we doing this? Have we resorted to boxed mac and cheese and PB&J? No! In fact, our eating habits are as good as ever, maybe even better. We eat plenty of fresh meat, produce and dairy. Our intake of whole grains is higher than before, and I regularly buy organic products. In fact, we've even worked a few more luxury items into the grocery cart each week.
A few months ago I thought I was doing all I could to save money on groceries. I shopped Wal-Mart, used their price-matching system and bought generic brands almost exclusively. Yet, we were still averaging about $800 a month to feed a family of seven. This is what the USDA Food Cost Reports call a "thrifty" amount to spend.
But, a number of things happened to change my habits and my spending. I became a grocery geek! I now never enter a grocery store without the sales ad and a stack of coupons clenched tightly in my fist. I even have a very snazzy box full of sorted and filed coupons. Don't tell me I don't attract some attention when I'm strolling the cereal aisle!
Recently, I discovered a wealth of Web sites to help me find better deals on groceries and toiletries. Through savvy coupon use and paying attention to grocery store sales, I am saving my family a ton of money. I no longer spend more than 50 cents for a box of name-brand, whole-grain cereal. I get many toiletry and baby items for free or almost free. We are eating well and saving money — something I once only dreamed of. I'm here to say, "There is a way to beat the cost of living!"
What I Did
It started with a three-week trial subscription to www.grocerygame.com. This is an online service, also known as Teri's List, which provides a database of your city's local grocery store sales combined with the coupons that are available for those advertised products. I tried it out and learned a lot about how the grocery stores operate their promotions.
I also discovered that there are other great helps online. Sites such as www.moneysavingmom.com and www.couponmom.com offer similar tips on saving with coupons and shopping for sales — free of charge.
Each week I sit down with the grocery ads and look through the advertised specials. I clip coupons from the paper and print them from online sources. I organize and file them in a large box for easy reference. Then I set out a plan for meal preparation and shopping, combining coupons with a good sale for the best savings. And I practice "stockpiling" or "anticipation buying": buying what I know we'll use when it's a good deal so that we have it when we need it, rather than paying full price when we run out of something.
What You Can Do
Here are some of the tricks I've learned that are putting food on the table and keeping money in the bank account:
• Keep track of prices. It helps to know what a good deal is, so keep a record of the lowest prices you see on the items your family regularly uses. Your "price book" doesn't need to be elaborate, just a simple list in a notebook or even a mental list if you're really good with numbers. The idea is to train your brain to discern between an "OK price" and "a great deal." To maximize your savings, you want to go for the great deals exclusively.
• Don't be so loyal. Brand loyalty serves the manufacturer and is the motivating force for their spending thousands of dollars on marketing every year. But, being loyal to a certain product doesn't always help your pocketbook. Consider trying less expensive brands in order to save money. You may find that you like the alternatives just as well, if not better. Additionally, by savvy coupon use, you may be able to afford a more "expensive" name brand instead of your regular generic.
• Buy something on sale before you need it. This is also called "stockpiling" or "anticipation buying." Basically it means buying things that you know you will use when you see a good price, rather than waiting until you run out and have to pay full pop. In essence, you are building a storehouse at home.
• Don't buy it if you won't use it. Use caution in your stockpiling. If your family will not eat it, it's no bargain. Avoid getting caught up in the frenzy of the deal. Likewise, don't be tempted by cheap junk food just because it's a "good deal." Focus on what has nutritional value and what your family needs.
• Shop the ads. Each week grocery stores send out a circular of their advertised specials. These are designed to attract your attention and get you to shop there instead of StuffMart down the street. Use these as a guide to build your pantry. Stock up on sugar and flour when it's on sale, not just when you run out. Just be careful that you don't buy a ton of over-priced items while you're at the store. You will risk losing whatever monies you have saved.
• Clip those coupons. You may think that it's only junk food coupons in the Sunday paper. That is often the case. But, I regularly clip coupons for eggs, dairy products and fresh meat. Over time you will see that there is a variety of menu items featured in the newspaper inserts. Web sites such as www.coupons.com and www.smartsource.com offer a multitude of printable coupons every week. Check your favorite manufacturers as well; they often host coupons on their sites. When coupled with a good sale, coupons can dramatically reduce the cost of an item. That is how I've paid 4 cents for a container of name-brand yogurt or 5 cents for organic tomato paste.
• Get to know your stores. As I've left the confines of Wal-Mart, I've gotten to know the other grocery stores in town and discovered that some of the most expensive stores also offer some of the best deals. I am often pleasantly surprised by their unadvertised specials, as well as their marked-down items. One even offers "double coupons" where they subtract double the face value of the coupon. This really adds up in savings at the checkout stand.
• Check out the wealth of frugal blogs and Web sites whose sole purpose is to help you save money. Some great sites to explore include www.moneysavingmom.com and www.thesimpledollar.com. Two others devoted to helping you see the value of coupons are www.thegrocerygame.com and www.couponmom.com.
With a little know-how and determination, you, too, will be able to save big at the supermarket. It may take a little practice, but you can beat the rising costs of food and still live high on the hog.
Jessica Fisher is a wife and busy mom of five children, ages 11 and under. Read more about her grocery geek adventures at www.lifeasmom.com.