Daddy Derek Fall Premiere: "Planes, Pains and Sippy Cups"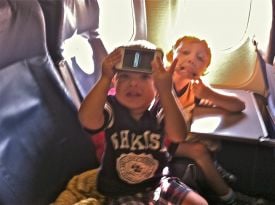 Our last trip of the summer is now behind us. My wife Kristen and I experienced flying with both Tyler (5) and Chase (2.5) for the first time. Our thrifty nature (thanks Dave Ramsey) meant taking two flights to reach Wisconsin (my home state) for my niece's wedding and three flights to get back home. This week I'm going to explain the first two flights which were fairly uneventful although challenging in their own right.
Getting all of our stuff into Charlotte Douglas was probably the toughest part. My wife pushed Chase in the stroller with one hand while wearing a backpack and pulling a roller suitcase with the other. I wore a large backpack and carried our garment bag while pulling another suitcase and the boys carseats which were bungeed to a folding dolly. Getting from the parking deck to the shuttle bus was quite entertaining. The other folks on the bus either shook their heads at us or gave us the "bless your heart" smile when after several minutes we got everything loaded. 
After a bus ride filled with awkard looks and pitty from strangers, we arrived at the Delta counter. The airline couldn't have been better. They don't charge to check your car seats or strollers so Mr. Thrifty here didn't have to pay another $100 to get our car seats to our destination. Security was fairly easy all things considered and not long after we were boarding.
Our first plane to Detroit wasn't anywhere near full. We had a full row of three seats on each side to ourselves. Tyler & Chase got along famously. No popping ears, no crying, no fighting. The kind of behavior that makes a flight attendant believe there are still well-behaved good mannered kids in this world. Our flight attendant provided extra snacks and drinks for the boys and they said "please and thank you." Chase even counted down "3…2…1…blast off! Yay!" That got us a few laughs and a wink from the crew. The only trouble on the first flight was the Take & Toss Cup that Chase opened spilling juice all over himself. 
Before kids, a layover of a little over an hour was a breeze. That's not the case today. We did our best to re-create the scene from "Home Alone" running from Concourse A to the last gate of Concourse C. Keep in mind when you have a stroller you have to ride the elevator. A LOT. In our case, four times. We were able to grab Wendy's and change Chase's clothes before boarding. If the fast food wasn't fast we probably would have missed our flight. The flight to Central Wisconsin Airport (yes, there is such a thing) went well except for another Chase spill. I think it was water the second time around.
These first two flights taught me three important lessons:
1. Pack lots and lots of extra clothes.
2. Bring food unless you have 2 hours or more between flights.
3. Don't use Take & Toss Cups. The lids will come off.
Our second set of flights was nothing like the first. I'll share that on this blog next Tuesday. Two words: cottage cheese
WCCB News Rising Host Derek James balances a full-time job in the glamorous world of television news (including a 2:30am wake up and stale coffee) along with managing chaos every afternoon for 5 year-old Tyler and 2 year-old Chase.