Cruise Out of Charleston for a Family Vacation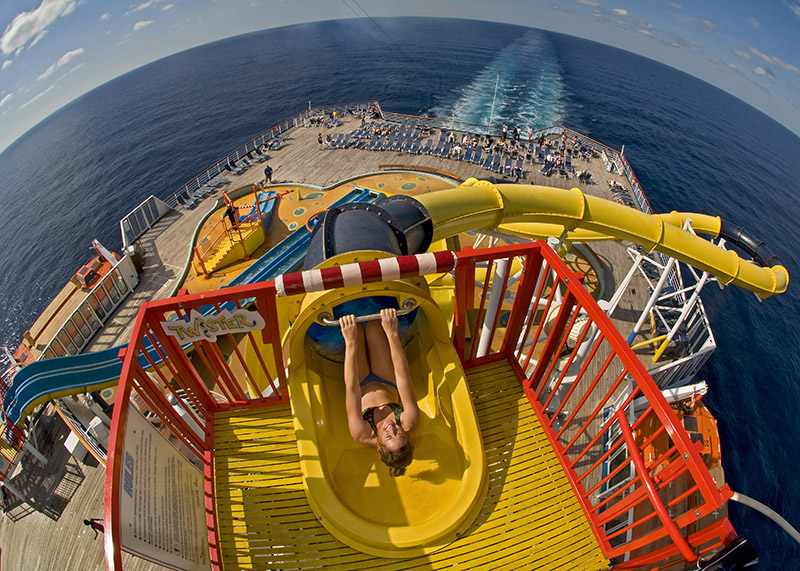 The grand Southern city of Charleston, South Carolina, attracts nearly 5 million tourists annually, according to its 2015 Tourism Management Plan. Visitors come to stroll down cobblestone streets through the French Quarter and City Market. They tour antebellum homes and plantations, view Civil War commemorations and dine on fine southern cuisine at restaurants like Feathertop and Harold's Cabin.
But since May 2010, another attraction has lured tourists to this historic city. It floats in the Port of Charleston and weighs more than 70,000 tons. To see it, walk down North Market Street and turn right on Concord Street. A Carnival cruise ship sits on the horizon, preparing to set sail with more than 3,000 guests and crew members on board to the Bahamas, Bermuda or Eastern Caribbean islands.
Guests can choose from weekly Carnival cruises that last up to four, five, six, seven or 10 days on one of three ships: the Ecstasy, Sunshine or Pride. And since Charleston is only a 3.5-hour car ride from Charlotte and a 4.5-hour car ride from Greensboro or Raleigh, North Carolina families have drivable access to an affordable Caribbean vacation.
Accommodations and Amenities
Staterooms on the Ecstasy, Sunshine and Pride offer an interior view, ocean view, balcony or suite. Prices per person average $264-$969 on the 850-foot-long Ecstasy, $304-$1,094 on the 892-foot-long Sunshine and $429-$1,439 on the 963-foot-long Pride.
Photo courtesy of Carnival
Amenities on all three ships include:
• Pool and WaterWorks waterpark
• Poolside bars and cabanas
• Piano bars
• Stage shows
• The Punchliner Comedy Club (featuring family-friendly and age-18-plus shows)
• Minigolf
• Seuss at Sea (includes a Dr. Seuss-themed breakfast, storytime, character parade and more)
• Camp Ocean (for ages 2-11)
• Circle C (dance parties, games, outdoor movies and more for ages 12-14)
• Club O2 (karaoke, video games, sports games and more for ages 15-17)
• An adult-only retreat area
• Hasbro, the Game Show (participants play giant board games on stage)
• Karaoke
• Multiple dining options (more on that below)
Carnival Pride also offers the SKYBOX Sports Bar and Carnival Seaside Theater, located just above the pool, so guests can float in the water while watching a movie. It doesn't get much better than that!
Dining Options
Let's talk food. There's never a shortage of it on a cruise ship, and ships disembarking from the world's low country cuisine capital are certainly no exception. The Ecstasy, Sunshine and Pride all offer the following dining options:
• Pizza Pirate (24-hour pizza buffet)
• Lido Restaurant (offering a wide range of buffet options)
• Dining room (where a three-course dinner is served each day, with two dinnertime options)
• The Taste Bar (complimentary appetizers)
• 24-hour soft-serve ice cream machine
• 24-hour room service
The Sunshine and Pride also offer Guys Burger Joint, Bonsai Sushi and Bluiguana Cantina, while the Sunshine features additional specialty restaurants.
Ports of Call
All three ships travel to the Bahamas, stopping in cities like Nassau and Freeport, where passengers can opt to explore the area on their own or take a shore excursion to a private island (such as Half Moon Cay, owned by Carnival) for snorkeling, paddle boarding, swimming with dolphins, kayaking and more. Cruises to the Bahamas last four to six days.
Other ports of call include Bermuda and destinations throughout the Eastern Caribbean, including the Dominican Republic, Grand Turk, St. Thomas, St. Maarten, San Juan, Antigua, Martinique and St. Kitts. Bermuda and Eastern Caribbean cruises typically last seven to 10 days.
The short drive to Charleston affords two vacations in one, offering families a chance to soak in the Caribbean sun, and absorb American Civil War history and Southern culture. Visit carnival.com to explore the different cruises that leave from Charleston (there are about 20) and before long, you'll be relaxing lazily by the pool, enjoying a tropical beverage to the beat of a steel drum band.
Paperwork
Most cruises beginning and ending in the U.S. are considered "closed loop" cruises, meaning they begin and end at the same port in the U.S. However, cruise lines like Carnival typically recommend that guests travel with a passport, which expedites the debarkation experience and enables guests to fly to a foreign port for boarding should they miss their scheduled port of embarkation in the U.S. Traveling with a passport also enables guests to disembark the ship before their cruise ends due to an emergency that may require them to fly back to the U.S. For a complete list of documents required to board a cruise ship, go to this website.
Beth Shugg is the editor of Carolina Parent.