Creative Uses for Common Household Items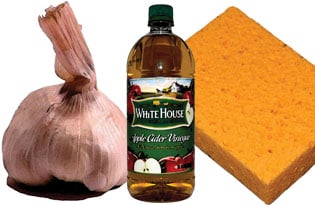 Recycling doesn't just mean sorting your trash into a bucket and setting it by the curb for pickup. You can get creative with common items you have around the house and save money over the long haul. Author and Family Circle columnist Vicki Lansky offers multiple uses for more than 101 things in her book "Another Use For …" (Book Peddlers, 2004; $8.95). Here's a look at just a few ideas.
Baby Food Jars
• Stop buying prepackaged Jello. Prepare your own gelatin in these empty single-serving jars and put them in the freezer. Then, pack them in your older child's lunchbox, and when cafeteria time arrives, the gelatin will be defrosted and ready to eat.
• Buy garlic in bulk, peel the cloves and put them in baby food jars in the freezer. They keep indefinitely.
Balloons
• Plop a blown-up balloon into a paint can to keep a skin from forming on the unused paint.
• Protect a bandage on a sore finger by pulling a small, uninflated balloon over it before bathing or washing dishes.
Meat Trays
(Be sure to sterilize these plastic foam trays with hot, soapy water first.)
• Use as paint palettes for kids' arts and crafts projects.
• Trace children's feet, cut out and insert into winter boots as insulators.
• Use cookie cutters to cut out shapes, and then throw them into the bathtub. They float!
Sponges
• Cut colorful sponges into fun shapes, then wet them and put them in the freezer. Grab one when a boo-boo needs ice.
• Make an easy kitchen garden with kids by putting sprouts and a sponge in a dish of water.
• Cut sponges into puzzle pieces or just block shapes to play with in the bathtub.
Toothpaste and Toothbrushes
• Remove lint from the Velcro on children's sneakers using an old toothbrush.
• Rub toothpaste on colored drink "mustaches" on kids' faces. It's tasty, so kids won't mind.
• Add sparkle to earrings when traveling by rubbing with a little toothpaste.
Vinegar
• Get old decals off kids' toys and walls by painting them with several coats of white vinegar or covering them with a cloth soaked in vinegar. After several minutes, the stickers should wash off easily.
• Use vinegar to freshen lunch boxes. Dampen a piece of bread with white vinegar and put it in the lunch box overnight.
• Boil white vinegar in water to get rid of stinky cooking odors in the kitchen.
Excerpted from the book "Another Use For …" by Vicki Lansky (Book Peddlers, 2004, $8.95).