Creative Outlets for Charlotte Families
From art and science museums to theaters and cultural centers, the Queen City has top-notch creative outlets, including these eight must-visit venues.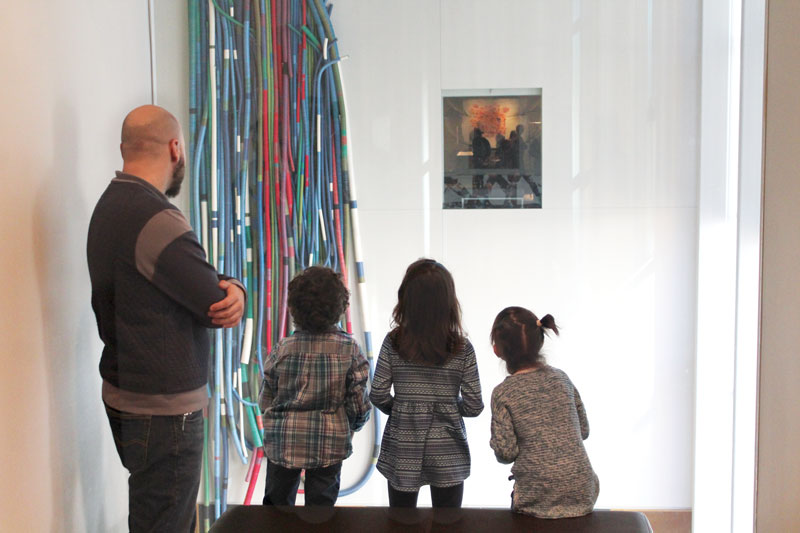 Local arts and cultural organizations can provide the perfect antidote that enable families to slow down and explore the world together. From art and science museums to theaters and cultural centers, the Queen City has top-notch creative outlets, including these eight must-visit venues.
The Bechtler Museum is located at Levine Center for the Arts, uptown's cultural campus, and features works by many of the most influential mid-20th century artists, including Picasso, Giacometti and Warhol.
Family Fun: Throughout the year, the museum hosts Family Days that feature hands-on activities and special tours. On these special days, children under age 18 are free and there's a 10 percent discount on children's merchandise in the museum store.
Bonus: Admission to The Bechtler is $4-$8, and free for ages 10 and younger. If you plan to visit the Mint Museum or Gantt Center too, check out the Levine Center for the Arts Access Ticket for $20. It's valid at all three locations for two consecutive days.
---
Next door to the Bechtler is the Mint Museum Uptown. Known for its diversity of collections, the Mint Museum encompasses everything from American art and fashion to African art, craft + design and ceramics.
Family Fun: The Mint Museum Uptown is home to the Lewis Family Gallery, where kids can learn about the museum collection and create their own masterpieces. ARTventure scavenger hunts or ART Packs help kids explore specific works in the galleries, and monthly Sunday Fundays with hands-on activities are designed especially for families.
The Mint Museum Randolph sits within a beautiful park in Charlotte's Eastover neighborhood and hosts frequent Mini-Masters Workshops, and Bilingual Stories and Music events.
Bonus: Regular admission is valid for two days, or come on Wednesday evenings from 5-9 p.m. when the Mint Museum is free for everyone.
---
Across the street from The Bechtler and the Mint Museum Uptown, the Gantt Center celebrates the culture, art and history of African Americans and people of African descent. Featuring permanent and temporary exhibitions of art, it also hosts films and special events throughout the year.
Family Fun: Monthly Family First events feature art-making workshops for creative fun. Kids and adults can discuss, dance, sing and explore themes inspired by current exhibitions.
Bonus: Explore the 58 exceptional works from the Hewitt Collection of African-American Art — the centerpiece of The Gantt's permanent collection — on its website.
---
A couple blocks east of Discovery Place Science along Seventh Street is the Levine Museum of the New South, which brings the region's post-Civil War past to life with interactive exhibits. On permanent display, Cotton Fields to Skyscrapers, gives kids and adults the chance to walk through a replica mill house, hear the words and music that influenced past generations, walk down main street and visit replicas of shops and gathering places to discover what Southern life was like for past generations. It also helps visitors understand the ways the Civil Rights movement transformed the South as well as Charlotte's important role during this period of tumultuous change. Temporary exhibits delve into contemporary or historical topics tied to life in the South.
Family Fun: Access History brings even more interactive and engaging experiences to families, like scavenger hunts and personal history workshops for participants to trace their own roots as well as family friendly pricing.
Bonus: The museum offers 50 percent off admissions on Sundays.
---
Children's Theatre of Charlotte has two theater spaces located inside ImaginOn: The Joe and Joan Martin Center, Charlotte Mecklenburg Library's outstanding children's library. Children's Theatre of Charlotte produces high-quality, professional theatrical productions, as well as numerous classes and camps (scholarships are available).
Family Fun: Theatre 360 offers a variety of ways for families to extend their experience with talk backs, demonstrations, backstage tours and story times. For families with special needs, the theatre also offers an ASL sign-interpreted performance and a sensory-friendly performance for each Mainstage production.
Bonus: Download free resource guides with engaging activities and background information on each production from the website.
---
East of uptown, The Charlotte Museum of History focuses on the region's history over the span of several centuries. Exhibits and programs range from the original settlements in the Carolina Backcountry to the history of professional sports teams in the area. On the museum's grounds, you'll also find the Hezekiah Alexander House, built in 1774, and the oldest surviving structure in Mecklenburg County. Learn about pre-revolutionary war life in the Carolinas by exploring the home of one of the people who signed the Mecklenburg Declaration of Independence.
Family Fun: In the Backcountry Gallery, hands-on exhibits let kids experience replicas of Colonial era homes for several distinct cultures that lived here, including the Catawba Nation, European immigrants and African Americans.
Bonus: The museum offers a wide variety of social and educational events throughout the year, including special Homeschool Days and a Fourth of July Celebration.
---
Lie on a bed of nails, experiment with magnetic force, visit an indoor rainforest and so much more at Discovery Place Science, located on North Tryon Street. Visitors can also experiment with laser cutters, 3D printers and robotics in the new Thinker Space or try other tech tools in labs throughout the museum.
Family Fun: Daily events include opportunities to meet animal residents, check out explosive scientific demos, or interact with scientific or artistic geniuses of the past through character portrayals and story times.
Bonus: Discovery Place is celebrating the Year of the Engineer with creative challenges and opportunities to meet hundreds of engineers at special Saturday events throughout the school year.
---
Discovery Place Kids in Huntersville is organized as a mini-town where kids can discover the world through play. Whether it's shopping at the pint-sized Town Market, pretending to be a veterinarian, climbing a real fire truck, creating art or splashing in the water areas, everything here is interactive and imaginative.
Family Fun: Check the website for daily live shows, incorporating everything from puppets and dance to scientific exploration.
Bonus: The museum hosts workshops, fun special events throughout the year as well as great summer camps for kids ages 3 and older.
---
Liz Rothaus Bertrand loves exploring arts and cultural destinations with her husband and two sons, ages 5 and 9.