Creating Command Central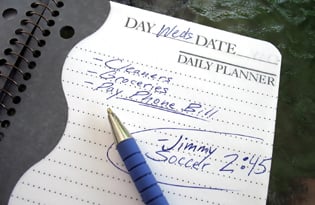 Today's families are busy. To stay on top of it all, smart parents create a Command Central — a system and a go-to place for finding out the "who," "what," "when," "where" and "how" of everyday family life.
The first step is gathering the right tools. You need:
• A planner
• A wall calendar or schedule pad
• A filing station
All in One Place
Whether Mom or Dad, one person in the family needs to be the "know it all" when it comes to everyone's various activities and appointments. This person also is in charge of keeping Command Central up to date.
A daily/weekly/monthly planner is essential, and one size does not fit all when it comes to choosing the best one. Some people prefer to use a planner as a portable office, complete with pockets, notepads and a generous area to write. Others choose a small pocket-size planner. And plenty of men and women rely on their PDA or laptop to stay organized.
Consider what worked well (and didn't work well) last year, and think about personal style. Is a lot of space needed for writing? Does color-coding help with organization (a different color for each family member)? Does it need to be a portable tool that can be carried anywhere, even through airports?
Once all the family's activities, appointments and responsibilities are written down in one place, the next step is to transfer this master schedule onto something everyone can see. To keep your family in the loop, post a family schedule each week or each month. Whether it's a wall calendar, white board or a magnetic weekly planner, this tool is where you record and post everything so all the information is visible to the entire family.
Paper Palooza
Maintaining a handle on all the little slips of paper, permission slips, sports schedules and school project task sheets can be overwhelming for any family. The final tool needed for a Command Central is a filing center — one catch-all place to keep important information so you can easily refer back for the details.
There are several options: file boxes, file totes, filing cabinets or binders. If everything needs to be within reach, consider a file box that stays on the kitchen counter or another convenient area. If you like to keep all papers together and have a home office, a filing cabinet can be utilized with a special section for family event information.
If the files need to be portable, totes come in handy during waiting times in the carpool line or at the orthodontist's office. A binder, on the other hand, can be stashed away in a cabinet or drawer.
Take Action
Once the system is in place, consider the components and establish a paper flow. If you have kids in school and sports, you know the amount of paper that comes home can be overwhelming.
Here's how it works in our house. When my boys were little, I unpacked their backpacks with them, and I took out all the papers to sort. Now that they're older, they're responsible for unpacking their backpacks and giving me all the papers. I have a special space on our kitchen counter designated for this purpose. You might think about establishing an inbox or a file folder.
Then, I read all the papers with my planner handy and make note of any special dates, as well as special requirements (like when a child needs to return a permission slip or bring a sack lunch). Once I note the date in my planner, I file the paper for future reference. Then I transfer the events from my planner to a schedule pad I have on our refrigerator.
One of the most important pieces to Command Central is that every member of the family should know where information can be found. Remember, the family runs the schedule; the schedule doesn't run the family.
Each night, before going to bed, glance at the calendar/schedule and check the next day's folder for important to-do's, making sure you turn in permission slips, order forms, or RSVPs on time.
Stephanie Vozza is the author of "The Five-Minute Mom's Club: 105 Tips to Make a Mom's Life Easier" (Franklin Green Publishing, October 2010).