Crafts for Kids: Flying Ghost Friends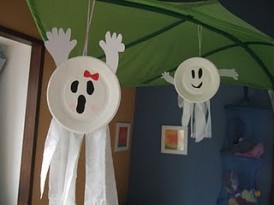 Are you afraid of ghosts? Well you don't have to be anymore! Hang these DIY ghost friends up in the hallway or kitchen and you'll have some new houseguests. An amazingly easy craft with little to no mess!
Supplies:
• Paper plates
• White construction paper
• Black washable marker
• Toilet paper
• Tape
• String
Instructions:
1. On the paper plate, draw your ghost a face
2. Cut out two short arm shapes
3. Rip about 4 or 5 decent size pieces of toilet paper
4. Tape the arms to the top back of the plate and toilet paper to the bottom back
5. Tape a loop of string to the back of the plate so the ghost can hang up high
6. You have a new spooky friend!
Watch the Video Instructions:
SEE ALSO: More Halloween Crafts for Kids