Crafts for Kids: 4th of July Magnet
This is a fun and easy patriotic craft the kids can make for the 4th!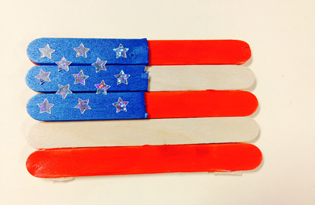 Popsicle Stick American Flag Magnet
Supplies:
o Red Paint (or Red washable marker for young children)
o Blue Paint (or Blue washable marker for young children)
o Elmer's Glue
o A pack of 3 ½ inch popsicle sticks
o Star Stickers
o Scissors
o A ruler (optional)
o Magnet tape
---
1. Take 5 of the popsicle sticks and paint 3 RED and leave 2 untouched.
2. Take 2 new popsicle sticks and cut them in half. You will only use 3 of the 4 half pieces. Paint those 3 BLUE.
3. After the paint dries (about 10-15 minutes) and grab 2 more popsicle sticks. Cut the stick so you have about ¾ of a stick.
4. Add glue to the ¾ sticks you just cut and place the 3 RED and 2 WHITE in a pattern (RED first) to create the base of the flag.
5. Once the glue is dry, glue the back of the BLUE half popsicle sticks and stick them to the upper left corner of your flag.
6. When that glue has dried, add your stars!
7. Stick two pieces of magnet tape to the back of your American Flag!