COVID-19 in Charlotte: A Timeline
Day by day, where we've been and where we are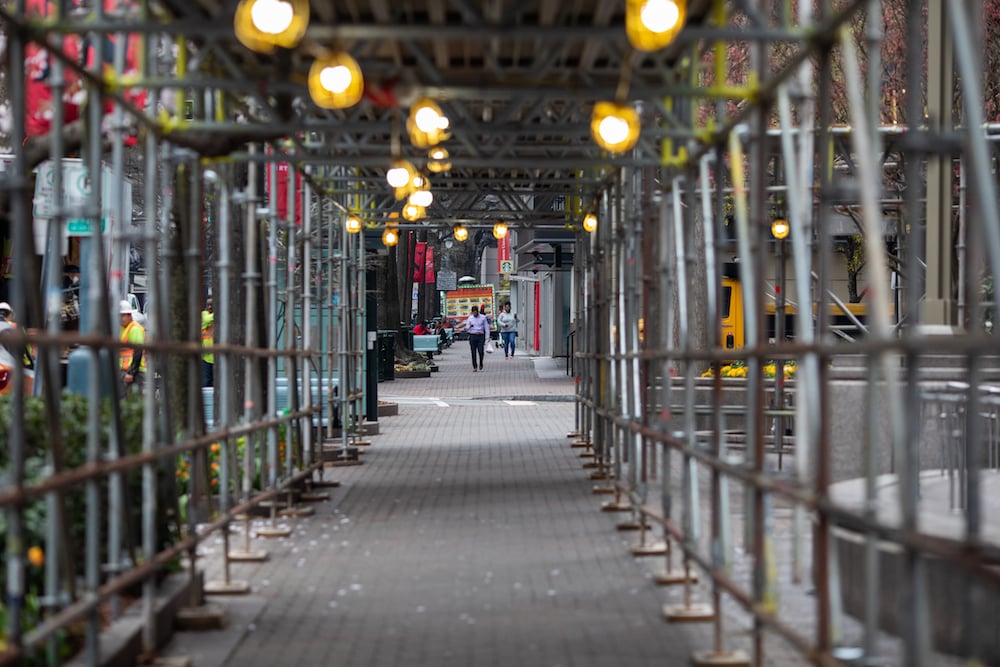 Key dates in the spread of COVID-19 in Charlotte and North Carolina, and in responses by state and local officials:
February 11: Governor Roy Cooper names a Novel Coronavirus Task Force to coordinate with the Centers for Disease Control and Prevention and state agencies to monitor, prepare for, and respond to COVID-19. "Though currently the risk to North Carolinians is low, we are taking a proactive approach and are prepared for potential scenarios," Cooper says. "This task force will continue coordination between our agencies and federal partners so we can keep the public informed and safe."
March 3: North Carolina identifies its first coronavirus case: a Wake County resident who had recently returned from a trip to Washington state, where the person had spent time at a long-term care center that was combating an outbreak of the virus.
March 10: The number of reported COVID-19 cases rises to seven. Cooper declares a state of emergency.
March 11: The UNC system extends spring break and announces a shift to online-only classes for all of its schools.
March 12: Mecklenburg County reports its first two confirmed cases of COVID-19, and Cabarrus County reports one. The county cancels gatherings of 100 or more people and recommends that people 65 or older avoid any mass gatherings, including church services. The state recommends that gatherings of 100 or more be postponed or cancelled. Charlotte-Mecklenburg Schools suspends competitions, performances, and events before and after school hours, effective after March 13.
March 13: In an emergency meeting, the CMS board votes to move spring break, scheduled for April, up by a month, begin sending students home March 19, and keep them home at least through March 27. "Last night, I was getting texts in the middle of the night, throughout the night, from teacher friends and from social friends asking what we're going to do," says Chair Elyse Dashew. "This is a time of very high anxiety."
March 14: Cooper orders all K-12 public schools closed for at least two weeks and bans gatherings of more than 100 people. "I am guided by one objective," he says, "doing what we must to keep people from getting sick." CMS reverts to its original calendar.
March 17: Cooper, on St. Patrick's Day, bans sit-down service at bars and restaurants and relaxes certain restrictions on unemployment benefits. CMS begins distribution of grab-and-go meals for students outside closed schools.
March 23: Cooper extends school closures to May 15 and bans gatherings of more than 50 people.
March 24: Mecklenburg County Emergency Management imposes a stay-at-home order, effective March 26, that prohibits gatherings of 10 or more people, which requires the closure of amusement parks, water parks, museums, fairs, play centers, playgrounds, recreation centers, gyms, bowling alleys, movie and performance theaters, and clubs. It also bars anyone from visiting loved ones in hospitals or nursing homes except under limited circumstances; and visit family or friends unless necessary. The county later extends the order, initially set to expire April 21, to April 29.
March 25: The state Department of Health and Human Services reports the first two coronavirus-related deaths in North Carolina.
March 26: The White House grants Cooper's request for a federal disaster declaration for North Carolina, which allows the state and local governments to be reimbursed for coronavirus-related costs.
March 27: Cooper imposes a statewide, month-long stay-at-home order that allows only essential businesses to remain open and bans gatherings of more than 10 people. The state reports 763 confirmed cases in 60 counties and three deaths; 230 of those cases are in Mecklenburg County.
March 29: Mecklenburg County reports its first coronavirus-related death.
April 2: The CEOs of Atrium and Novant Health, Charlotte's two largest hospital systems, ask the county to build a mass care field hospital with as many as 3,000 beds. They later revise their estimate to 600 extra beds as the stay-at-home order and social distancing curb the number of cases.
April 6: A group of epidemiologists from UNC Chapel Hill and Duke University and other health experts release a modeling forecast that predicts as many as 750,000 COVID-19 cases statewide by June 1—a number that would overwhelm North Carolina's health care system—if all social distancing practices ceased at the end of April. "The modeling affirms that the actions we take now will determine how this virus will impact North Carolina in the weeks and months to come," says Dr. Mandy Cohen, the state DHHS secretary. "Please stay home now to save lives."
April 15: The Atrium and Novant Health CEOs tell county officials they no longer need a mass care field hospital, although they warn that a premature relaxation of social distancing guidelines could lead them to revise their projections. "We are obviously pleased, but we can't stop now," says county Public Health Director Gibbie Harris. "We have to continue the compliance, flatten the curve, and get beyond this." The county reports 1,039 cases of COVID-19 and 19 deaths.
April 23: Cooper extends the statewide stay-at-home order through May 8 and lays out a three-phased reopening of businesses and expansion of allowed gatherings over the next few months if the number of infections drops.
April 24: The county Health Department reports 1,400 confirmed cases and 37 related deaths.