Cover Kids Search Finalists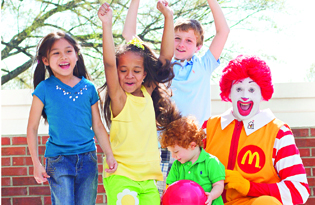 Silly fun and smiles were had at this year's Cover Kids Search photo shoot. Our four finalists and their families joined Ronald McDonald at the newly constructed Ronald McDonald House for an afternoon of high-fives and giggles that were captured by photographer Becca Bond.
Visit our Cover Kids Finalists Photo Gallery to see more photos from this fun-filled day.
Congratulations to our 2011 Cover Kids Search finalists Tucker, Haylee, Felisia and Jared. Finalist Felisia is pictured on the cover of the May issue.

From left to right, Tucker, 2; Haylee, 5; Felisia, 5; and Jared, 10
In addition, we asked readers to vote online in our 2011 Cover Kids Search photo gallery to select the Readers' Choice Cover Kid. Reagan, 5, received the most comments and is this year's Readers' Choice Cover Kid.

Reagan, 5
See all the cute faces that entered this year's search in our 2011 Cover Kid Photo Gallery.
For more information on photographer Becca Bond, go to www.beccabondphotography.com.