Courts and Courses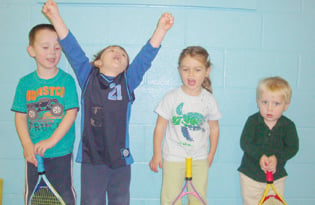 For decades, children didn't mix well with golf and tennis. Full-size golf clubs are taller than some 5 year olds. When children hit regulation tennis balls back and forth, the balls often bounce over their heads.
But scaled-down equipment and affordable programs are opening up golf and tennis, once considered "country club" sports, to a new-and younger-group. Tennis and golf are joining the ranks of micro-soccer, peewee football and Guppy swim programs.
Children as young as 3 are being introduced to both sports through programs designed to teach fundamentals while making sure kids have a great time. Child-size tennis rackets and golf clubs now are affordable and readily available.
The very best players may one day get a rare golf or tennis college scholarship, or even play professionally. As more young children learn golf and tennis, coaches hope that more students will play the sports competitively in middle and high school. Even more importantly, coaches say that children are learning sports that they can play into old age, with people of all ages.
"Golf is what we consider one of the lifetime sports," says Vicki Hamilton, director of athletics for Charlotte Mecklenburg Schools. "You're not going to play football all of your life."
Tiny Rackets Serve Up Fun
At the new Tennis for Tots program in Concord, preschoolers work on hand-eye coordination and motor skills, vital for success in tennis. Instructor Laura Oxendine, a physical education teacher who recently moved from Mississippi and started the program, says she saw that parents were interested in sports for very young children.
"It's basically bringing everything down to a 3- and 4-year-old level," says Oxendine. "Everything is scaled down to their size." By the end of a Tennis for Tots four-week session, the young players know tennis lingo and can tell the difference between a forehand, backhand and volley.
Children play with a 19-, 21- or 23-inch-long racquet; typical adult rackets are around 28-inches long. Oxendine also uses a lower net, foam balls and a court less than half the size of a regulation tennis court.
Tennis for children is a recent push of the United States Tennis Association, which introduced QuickStart Tennis for ages 10 and younger several years ago, and uses downsized equipment and courts for children. Tennis officials started the program to compete with soccer and other sports that were drawing young children into peewee programs.
The results of QuickStart have yet to be seen, but tennis coach Mike Murphy says he is beginning to see more kids playing in tournaments at Weddington Swim and Racquet Club, where he is the club manager.
Unlike team sports such as football or soccer, few college scholarships are available for tennis and golf players. Many standout high school players likely would have to attend a smaller college to receive a sports scholarship because larger schools are so competitive.
"They have to make a choice," says Murphy. "Do they love tennis enough to go to a smaller school, or do they choose academics?"
That choice has been made easier with the recent emergence of club-level tennis teams at colleges, where students can continue playing tennis without a scholarship. Some students take a break from tennis during college and join adult leagues in the city where they live after graduation.
"Tennis is pretty easy to pick back up at the level you left it at," says Murphy. "You don't forget how to play."
Teeing Up Success
Hamilton says a good sign for the future of golf is seeing the number of children who attend Charlotte's Wells Fargo Championship PGA tournament at Quail Hollow.
"That causes a lot of interest (in golf)," she says. Many young golfers tell her they grew to love the sport while caddying for their dad or tagging along on the golf course with a sibling.
A number of programs, some geared toward underprivileged youth, along with more affordable green fees and child-size equipment clubs are piquing youths' interest in golf.
Hamilton says that in 2006-07, 31 girls played high school golf in CMS high schools. That number increased to 54 this year. The Ardrey Kell High School girls' golf team won the Class 4A state championship in November, the first such in win in recent memory for a CMS school.
One member of the Ardrey Kell team was a graduate of The First Tee of Charlotte, an organization established in 2001 that provides golf instruction and character education for children ages 5-18.
First Tee focuses on children who might not otherwise get to play golf. Brandi Edwards, director of programs, says that once kids try golf, many are hooked. They like the competition, playing with their friends, the equipment and the scenic courses that are so different from basketball or football.
The days of $50 green fees, the cost of a round of golf, also are on the out. Edwards says that many public courses are realizing that a new generation is interested in golf, and are hosting junior tournaments and reducing fees.
Some courses let kids play with a parent for an extra $5; others charge as little as $12 for a round. "It's not overly expensive all the time," says Edwards. "It just depends on the types of courses you're playing."
She's watched chubbier kids lose weight after hours spent playing golf, pointing out that it's a low-impact sport that gets kids outside and promotes exercise. Golf, like tennis, teaches teamwork, socialization, manners and honesty.
"There's a lot more value than just winning a state championship," says Hamilton.
Marty Minchin is a freelance writer and the mother of two young children in Charlotte.
Start-up Fees
On the Course
A child-size set of clubs ranges from $60-$100.
No special shoes needed.
Green fees start at about $12; programs provide access to golf courses
Program costs as low as $35 for a four-week session
On the Court
Junior rackets start at about $15 and can be used for several years
No special shoes needed; if wanted, court shoes are about $40
Programs as low as $20 for a four-week session
Local Golf and Tennis Programs
Police Activities League youth golf
Mecklenburg County Junior Golf Tour