Cottage Cheese Catastrophe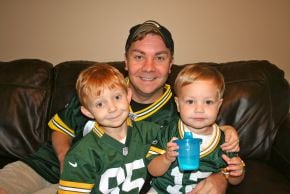 Last weekI gave you the highlights from the first set of flights with our boys to Wisconsin for my niece's wedding in the Northwoods. The lugging, sprinting and spilling don't even compare to the second half of our trip.
The departing trip was made up of two flights, the return trip three. The problems started well before we ever got on a plane. The morning after the wedding, the family and I had to drive my dad's Cadillac three hours from the resort near my sister's home to the airport to make the first of our three flights of the day. Dad would pick up the car later so we didn't have to rent one for the 5 days we were visiting.
We hit the road at 9am. Tyler (5) was in one car seat with his Leap Pad, Chase (2.5) with his toy computer in the other. My wife was on the phone with her dad and I was driving while enjoying a coffee and some Tom Petty on the radio. It was a smooth start until 9:40am when my wife screamed "Oh my god! I gotta go!" and hung up on her dad. (Not something you should ever do unless you want to scare the crap out of someone) I turn around to see projectile vomit everywhere. Chase had thrown up all over himself, the entire car seat, and his jacket, blanket and toy computer. And my dad's leather seats.
Chase's vomit was the worst kind: the cottage cheese type. The most foul, sour smelling, thick and just plain nasty vomit around. The kind that makes your older son start to cry and adult men gag.
While Tyler teared up and pulled his blanket over his head, my wife & I tried to figure out where we could stop on a highway in the middle of the woods. After a few minutes we came upon Butternut, Wisconsin. Luckily, the village (population of 375) was home to a single gas station. In reality, it was more of a bait & tackle place that had gas pumps.
My wife pulled Chase and all of his vomit-covered items out of the car so she could start wiping him down and get him some clothes from our luggage in the trunk. I ran inside to buy something to clean our cottage cheese catastrophe. No disinfectant wipes sold in this place. I walked out with some paper towels and Windex. After thirty minutes of cleaning the car and rinsing Chase and his items in the gas station bathroom we were back on the road. The Windex had done very little to mask the sour smell from what had taken place thirty minutes earlier but Chase and Tyler were both happier. Chase's car seat was so wet that we covered it with garbage bags so he could sit without getting soaked.
After multiple potty breaks we made it to the airport two and a half hours later. We didn't miss any flights that day but the cottage cheese event had basically set the tone for the next 13 hours. Nothing was going to be easy. I don't know if they were traumatized by the day's events but the boys didn't fall asleep until we were back in our car driving from Charlotte Douglas to our home that night around 10:45. I am now a cheesehead who can't even look at a container of cottage cheese, let alone open one.
WCCB News Rising Co-Host Derek James balances a full-time job in the glamorous world of television news (including a 2:30am wake up and stale coffee) along with managing chaos every afternoon for five-year-old Tyler and two-and-a-half-year-old Chase.