Communities: North Charlotte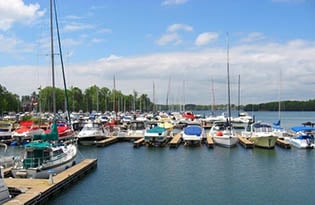 A 20 to 30-minute drive (assuming it's not rush hour) from Charlotte north up Interstate 77 leads to the heart of Lake Norman. Lake Norman's waters flow across county lines into Mecklenburg, Iredell and Lincoln counties. Though collectively referred to as Lake Norman, each town in the area has its own distinct personality.
This section is sponsored by:

Huntersville
Beautiful green expanses of land dotted with horses and livestock are mixed with newly built subdivisions. North Mecklenburg Park hosts many athletic league games and Huntersville Family Fitness and Aquatic Center is a hotspot for family activities, swimming lessons and a kids' triathlon series.
Birkdale Village, a mixed-use community with luxury apartments and single-family homes, also meets shopping, food and entertainment needs, complete with restaurants, retail and a movie theater.
Huntersville Elementary anchors the small downtown area, and due to large population growth in the area, new public elementary, middle and high schools have been built in recent years, as well as new private schools.
Cornelius
Many locals split Cornelius in half by the bridge that crosses I-77.
To the west of I-77 is the Peninsula Club that boasts a championship golf course, a pool and club, as well as large homes and lakefront properties. To the east, find more modest homes and the charm of old town Cornelius, as well as the Cornelius Public Library and Cornelius Elementary.
There are many newly built subdivisions that include single-family homes and townhomes, neighborhood pools and access to the lake. Retail shopping, specialty shops, restaurants and entertainment abound throughout the area as well.
Davidson
The small town is built around Davidson College, and is designed for to encourage residents to be active and get to know one another face to face.
There are more than 19 parks in Davidson. Look for year-round activity on The Green including a seasonal Farmers Market and an outdoor concert series.
Charming old homes make up most of the area, with a mix of new construction. Stroll Main Street and you'll find local coffee shops, restaurants and galleries.
Mooresville
Approximately 30 miles north of Charlotte is Mooresville. Home to more than 60 motorsports racing teams, don't be surprised to see a NASCAR driver at the post office or local restaurant. Neighborhoods in the downtown area vary from small bungalows that were once mill houses to brick ranch-style homes.
Located in Iredell County, The suburbs of Mooresville are a mix of brick ranches built between the 1950s and 70s on large lots, and newly built communities. Large tracts of farm land still exist on the outskirts of town. There are major retail shopping centers with big-box stores on the edge of I-77.
Read more: 
 
9 Things to Do with the Family in North Charlotte