Communities: East Charlotte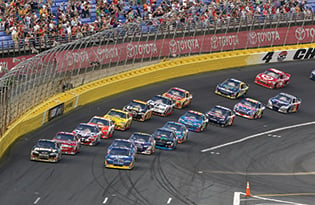 From shopping at one of North Carolina's largest malls, Concord Mills, to cheering on your favorite driver at the Charlotte Motor Speedway, venues attract crowds that you would expect from a big city, but the rural areas and farms still give this area a down-home feel.
University City
University City is home to the University of North Carolina at Charlotte and Charlotte 49ers, and boasts the state's first and only Ikea, as well as the Verizon Wireless Amphitheatre.
Highland Creek, one of North Carolina's largest neighborhoods, is a resort-style neighborhood that accommodates many growing families with large, new brick homes. It includes a championship golf course and has five community swimming pools, as well as a plethora of parks, playgrounds and trails.
There are many annual festivals in University City that are perfect for families, including Green Goats and Gardens that promotes living a green lifestyle. Families can also stretch their cultural boundaries by attending the International Festival at UNCC in September.
Harrisburg
The town of Harrisburg has rural roots established in the 1920s that are still reflected today. The small town feel and variety of local businesses makes it a great place for families to live and work. Families commuting to the downtown Charlotte area can expect a 30-minute commute.
The Harrisburg Town Center is the popular hub right in the heart of the town. It includes various shops and venues including the Cannon Memorial YMCA. The Town Center also hosts one of Harrisburg's most popular events, the Harrisburg Hype, which takes place in the spring.
Concord/Kannapolis
Cabarrus County, approximately 35 miles from Charlotte, is home to the small towns of Concord and Kannapolis. There are more than 35 active neighborhood organizations* in Concord that include traditional older sections of the city and newly developed subdivisions.
The N.C. Research Campus and Village Park anchor downtown Kannapolis. Surrounding neighborhoods are a mix of revitalized mill houses, older subdivisions and rural areas with new subdivisions. Kannapolis City Schools serves just over 5,000 students, and Cabarrus County Schools less than 30,000.
The minor league baseball team, the Kannapolis Intimidators, play at the CMC-Northeast Stadium, and Charlotte Motor Speedway is located in Concord.
You don't have to drive a racecar to get around in Concord. Residents can always hop on Rider, the Concord Kannapolis Transit System, to enjoy a day in the town visiting one of the local attractions, like the Old Courthouse Theatre.
*Source: concordnc.gov
Read more: 
9 Things to Do with the Family in East Charlotte