Communities: Central Charlotte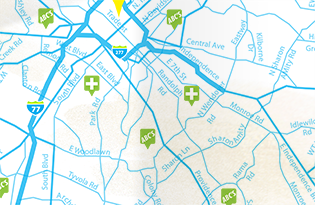 The tree-lined streets in Charlotte's central neighborhoods are in close proximity of uptown Charlotte, making commutes light. Most all of Charlotte's central neighborhoods have clusters of restaurants, coffee shops, parks and playgrounds, and shops that are easily accessible on foot or by bicycle. Many have their own farmers markets, and all have their own unique flavor. Metropolitan, one of the city's newer retail centers is minutes away from these neighborhoods, and hosts a Trader Joe's Grocery Store, Target, Marshall's, Staples and several restaurants and backs up to Little Sugar Creek Greenway.
Read on to learn more about each neighborhood.
Elizabeth
Minutes from uptown Charlotte and close proximity to many locally owned shops and restaurants, as well as Novant Healthcare and Independence Park, Elizabeth is a historic neighborhood, established in 1907, that boasts a mix of larger homes with large front porches and some smaller bungalows.
Elizabeth Traditional Elementary is located in the heart of Elizabeth, as are several well-established churches that offer daycare and preschool. The Elizabeth Avenue Farmers Market is open during spring and summer months.
Central Piedmont Community College offers opportunities for continuing education, and is home to the Dale F. Halton theater that hosts CPCC Summer Theatre and Tosco Music Parties for families. The Charlotte Hounds lacrosse team play at Memorial Stadium adjacent to CPCC.
Plaza Midwood
Bungalows and new craftsmen style homes and newly built apartments are what you'll find in Plaza Midwood. Seven minutes from uptown makes for easy commuting to uptown workplaces and museums.
With patio and rooftop restaurants, a newly renovated Harris Teeter shopping center, lots of locally owned, ecclectic retail shops, Plaza Midwood has big city energy, but a small town atmosphere. Play shuffleboard before brunch at Zada Janes or bicycle under the expansive green canopy of trees to Rita's Italian Ice.
Midwood Park is in the center of the neighborhood and is complete with a playground good for all ages, a small amphitheatre, tennis and basketball courts, and a playing field. The park also hosts the annual Midwood Maynia festival that draws families for its kid-friendly events, live music and home tour.
Plaza Midwood is a short jaunt for the artsy NoDa neighborhood that is filled with local art galleries, music venues, Amelie's Bakery, local breweries and much more.
Dilworth
East Boulevard anchors the Dilworth neighborhood with locally owned shops and restaurants. Large, craftsmen-style trees are shaded by oak canopies that surround two parks. Latta Park has a small splash pad, playground and shaded walking trails and is adjacent to Dilworth Elementary where and Tom Sykes Recreation Center. It's also home to the annual Dilworth Jubilee festival. Freedom Park is one of Charlotte's largest parks and is home to Dilworth Little League and other sporting leagues.
Walk or bike to the Harris Teeter grocery store, as well as Atherton Market in Historic Southend, where you can board the LYNX train for a ride to uptown or South Charlotte. Several well-established churches in the area offer daycare and preschool.
Myers Park
This well-established neighborhood boasts some of Charlotte's finest and largest homes and oldest trees. Queens University campus is in the center of it all. Myers Park Country Club is one of Charlotte's oldest, and offers golfing, tennis, swimming and more. Myers Park High School, one of Charlotte's largest high schools is also located in the heart of Myers Park.
Travel along Providence Road to shop high-end boutiques, grab a coffee at Starbucks and shop for provisions at the newly renovated Harris Teeter at Myers Park Shopping Center.
Scoot over to Selwyn Drive for a mix of casual and upscale dining and specialty shops that are very close to Park Road Shopping Center, one of Charlotte's first outdoor shopping centers that has everything from a movie theater to groceries, a hardware store, clothing stores and a Michael's craft store.
Cotswold
Conveniently located between uptown and Southpark, Cotswold is a mix of 1950 ranch-style, brick homes on larger lots, mid-century modern homes and new construction. Cotswold Shopping Center houses a large Harris Teeter, a Marshall's, World Market, and IHOP.
Many of Charlotte's best private schools are less than five miles from Cotswold neighborhoods, and Cotswold IB Elementary and Randolph IB Middle schools are a draw for many families.
Read more:

9 Things to Do with the Family in Central Charlotte