Comedian Craig Shoemaker Has Daditude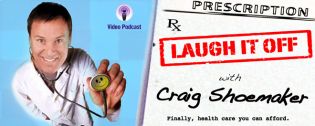 A conversation with comedian Craig Shoemaker
Craig Shoemaker has a Daditude. He shares his comic view on life as a husband and father to three boys in the primetime comedy special titled "Daditude," airing through December 2012 on Showtime.
I met Shoemaker years ago at a comedy club in Los Angeles, when his character, The Lovemaster, was the centerpiece of his stand-up. Years later, I was excited to learn he frequently performs in Charlotte and caught his act at The Comedy Zone several times. Shoemaker, who currently lives in Los Angeles with his wife, Mika and sons Justin 14, Jared, 8 and Jackson 3, now shares his hilarious experiences as a dad on the stage and screen. I caught up with him for a laugh-filled conversation on the night of his Showtime show premier.
Editor: You are from Philly originally, but you have some strong connections to Charlotte. Tell me a little about that.
Shoemaker: I first came to down there back in the 80s when the Hornets were first there. I just remember thinking, where are the Hornets in that town? And I'm still looking for a Bobcat. I've never seen one of them either.
In 2004, someone gave me a job for two years on the radio at 107.9 The Link. I had my own show from noon to 3 p.m. every day. And I had an absolute blast. I still miss the people – the callers – I had nicknames for all of them. There was Songstress Julie, Postal Percy, Curbside Carrie, Snapshot and my queen, Queen Jeannie. Everyone had a nickname. I just had this whole cast of characters who would call into the show.
I really have my heart there in Charlotte. I just have this great feeling when I'm in that town, like I'm one of them. Even though I don't throw out too many 'Bless your hearts." I've certainly had them thrown at me. And I know what it means by the way. It's the same as when someone says, "I'll pray for you." They're not really praying for you.
Editor: You were married to your previous wife during that time, right?
Shoemaker: Yes. I was married at the time, to my ex wife, and that certainly went out over the airwaves. You didn't have to be Nostradamus to predict the doom of that marriage. Right after that, I got divorced and connected with my wife of today, and I couldn't be more in love every minute – every single second – of every single day.
Of course, my ex wife is great because that's all my material. Comedy comes from, conflict. So basically, I have seven years of comedy stored up in my bunker, like I'm ready for comedy armageddon. There's plenty of material and it keeps coming. And, all my shows this year are benefits, with proceeds going to my ex-wife.
Editor: I've seen your shows from the early days and now as it's evolved into your stand-up today. Did becoming a Dad make you change the way you think about comedy?
Shoemaker: The way I think about comedy doesn't necessarily change, because what goes on the stage is the truth about whatever is going on in my life. It is the truth about the way I was brought up with my pot-smoking grandmother, my belly dancing mother and my cult leader Father, running mule rides. I believe comedy at its truest form is actually a connection the audience has with that truth. It could be 'That's happened to me,' or it could be 'I hope that never happens to me.' (Which is most of the time.)
Today, I talk about my children. You have some people who don't like it, because maybe they don't have kids, but they – we were all kids once. I am very clear about that.
Hey, I'm a kid – trying to raise three boys. And even my kids know it. We constantly play games. It's 24/7 thumb wrestling at my house with Jackson, my youngest, and with the 8-year-old, it's Robot Man. I chase him around the house like a robot.
And, the 14-year-old…well, he basically pretends I don't exist. Right now, I'm just a ride for him. The way I try to bond, to have him in my company, to gain his favor is to let him drive a few blocks.
Editor: Speaking of your boys, I've noticed their names all begin with J – Justin, Jared, Jackson. Is there a reason why?
Shoemaker: OK. Here's the thinking. (And, by the way, my wife is just finding this out. She heard me explaining it recently in an interview. She didn't realize the reason.) When I was a kid I was the only boy around. There was only one other guy in the family, my uncle Steve. So, whenever they called me, they would say… "St-St-Craig!" So, my whole life. I was never just Craig… I was always "St- – -Craig."
If you name all your kids with the same letter, you could stutter and you're gonna get it right every single time because, at least you are off to a good start. J-J-J-Justin. J-J-J-J-J-Jared. None of them are going to have a complex, when they're older. Because at least I'm stuttering with the right letter.
Editor: How is your life as a comedy dad different from say, a banker, or any other working dad?
Shoemaker: A banker, a baker… My child would choose anything but what I do for a living! The teen son, he vascillates. Once in awhile he has friends who are my fans, so he goes from thinking I'm the goober father he's trying to hide from, to the "Oh my God, he's the guy who has a Showtime special" reaction. So he has a pride thing.
My whole goal in raising the kids, is that when they go to therapy someday, I'm not the lead story. But somehow, being a comic dad, I don't think that's going to manifest. Here's how it will go. Can you imagine. [The therapist,] "How was your relationship with your father?" [My son replies,] "My whole life was on the stage!" Of course, my defense is this… it feeds you and it gets you a new cell phone. You're going to have to deal with it, OK! If you want a new XBox game, Daddy's got to go talk about you on stage tonight.
Editor: So how did this Showtime special "Daditude" come to be?
Shoemaker: The title, Daditude, has to do with being a modern-day dad. I grew up with all females, so I have a feminine instincts, but I was also raised in Philadelphia. So, I go anywhere from let's take them to ballet class to… wrestling and football. I'm coaching [baseball] and in modern society it's like apocalypse now with the helicopter parenting, it's just insanity! There's the hand sanitizer and sunblock – our first baseman looks like a mime he's so coated with it. It's like he's Marcel Marceau building a wall over there. And they have all these pads and cages. Hey. It's a ball, not a land mine, Hurt Locker.
But there's another very sensitive side to me who knows what it's like as a kid to be abandoned and not be loved, quite frankly. So I give my children immense unconditional love, attention and encouragement. There are both sides inside me and I know it's inside a lot of people. So, I'm constantly adjusting my Daditude to the circumstances.
It was shot in Anaheim and our intention was always to go to Showtime. It was picked up and premiered in prime time slot on November 19. I'm hoping some big producer will be reading Charlotte Parent and want to turn it into a sitcom because it's relatable.
Editor: I know you're still on the road a lot, doing stand-up. What do you love and what do you hate about life as a comedian?
Shoemaker: The travel is very difficult because I don't like being away from my family. I couldn't wait to be called Dad. That was a big thing for me. My first son, Justin, when he was 1 year old, he spoke his first word – you know what it was? Airport! I just wanted to hear Daddy, Dada, Da, Papa, anything…but his first word was airport! That's all he knew about me.
The love part of it, is the enjoyment of seeing people's literal transformation before my eyes. You can walk into a show, or listen to my podcast, with the worst stress and you're going to have a change in your body and spirit without a doubt. You're going to walk out feeling a lot better … to be uplifted. That is the best part of the business — watching people have that feeling. They can't even think about what their problems are during a laugh. Their stress is relieved, they're oxygenating their body, and to see that and feel that is a wonderful experience. I've even had people give me credit for births after the show. I don't know, maybe the humor just gets something loose.
Editor: Brings new meaning to family-friendly comedy.
Shoemaker: Oh I'm family-friendly baby – Better wear protection!
But seriously, I would really love people to subscribe to my podcast, because that's a freebie. It's fun. We have great guests. We have a sole purpose and intent, because we don't get paid, of making people laugh and feel better for those two hours. We're kinda like the drug store. Here's you prescription, just open up and say "Ha!" It is absolutely the best medicine. I've got my doctorate now, so it really is Dr. Shoemaker delivering some laughs. Just like I did on the radio back in Charlotte.
Find more laughs at CraigShoemakerShow.com. You can subscribe to download Craig Shoemaker's free podcast, "Laugh it Off" from iTunes. Finally, health care you can afford! Catch "Daditude" on Showtime through year end.