Clinical vs. Home Therapy: What is Best for My Child?
Tips to choose the best location for your child's success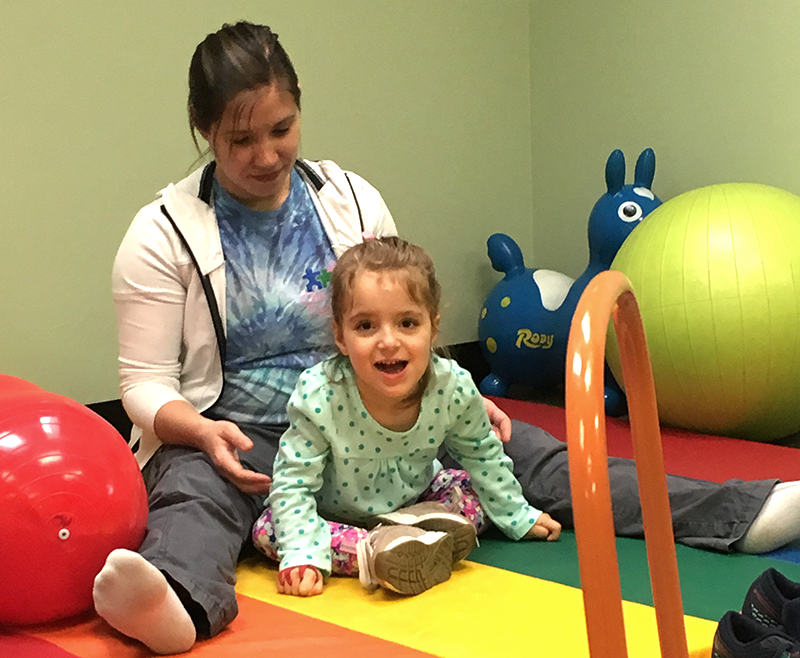 Since my son, Ben, was 6-months-old, weekly sessions of occupational, physical and speech therapy have been part of his life. These sessions have taken place at our home and at a therapist's office. In recent years, we have had the flexibility to meet therapists at the playground, science museum and local pool, but those first few years, I was flying by the seat of my pants finding out about therapy and what worked best for Ben.
There are positives and negatives to therapy at home or at a clinic, but many times the reasons are specific to what works for your child and your family's lifestyle, and what is practical. Whether this is your first experience with therapy or you are thinking about making a change, use these tips from parents and an occupational therapist to help guide your decision-making process.
---
The Comforts of Home Therapy
Kim McElrath-Ray, 39, an attorney with Legal Aid, lives in Smithfield with her husband, Jeff Ray, 47, and their two boys, Elliot, 11, and Josh, 9. When Josh was first born, he underwent a liver transplant leaving him susceptible to germs. Doctors insisted on limited contact with other people, and home therapy was the only option. Josh's intellectual disabilities required that he receive therapy.
"(Home therapy) allowed me to limit Josh's exposure to germs. Therapists used hand sanitizer and took off their shoes when they arrived at the house," says McElrath-Ray.
Ashley Morgan Deaton, occupational therapist and co-owner of One Step at a Time Therapy Services Inc. in Mount Ulla, sees value in allowing a child to learn how to use his or her physical environment, such as the bathroom or stairs, with home therapy.
"Information the therapist gains from these observations can be used in decision making, goal setting, and initiating conversations about the ways that progress can be enhanced based on the family's routines," Morgan Deaton says.
Other advantages to therapy at home, include increased parent involvement and the freedom to meet at a park or a museum, but it can require a designated area in the house. When Rebecca Smoot, 44, chose to do therapy at home with her daughter Ella Smoot, who was a micro-preemie and has cerebral palsy, the Charlotte mom specifically created a room for therapy sessions.
"I converted a room in our house with mats, a simulation ball and swing," Smoot says. And like McElrath-Ray, she too offered therapists hand sanitizer and a place to put their shoes.
Home therapy means no driving and unloading for an appointment elsewhere, but some people find having therapists come and go through the house to be intrusive. Before choosing in-home therapy, consider your child's learning style: Are there distractions such as siblings that may keep him from getting the most from a therapy session? Is he too comfortable at home to buckle down and do the work? Also, be sure your insurance covers home therapy sessions.
---
The Clinical Setting
Therapy at an office offers a group effect of sorts. McElrath-Ray noticed that as Josh got older and was not at risk for health issues, he needed social interaction with other children that therapy at home didn't offer. He was able to take risks and try new things with a therapist without his parents observing.
"Josh was so much more motivated," McElrath-Ray says. "And we saw him jump into what he was doing. He was inhibited by my worry. Now he is trying to run."
Therapy at a clinic also gives parents the opportunity to meet other parents who may offer support. Another child in therapy can be a motivator for a child to work harder, but traveling to therapy appointments does mean that child-care arrangements will need to be made for siblings or they may have to come along.
"A clinic setting may work for a child who needs the benefit of large equipment that they may not otherwise have access to," Morgan Deaton says. A clinic typically provides wide-open areas with mirrors, large mats, swings, benches, tables, treadmill and ladders.
Some children may have trouble carrying over new skills learned at a therapist's office to the home environment. Morgan Deaton cautions that children with autism can have difficulty generalizing one skill to another environment.
"If a child with autism works in the clinic on broadening the variety of food textures he will eat, he may associate these trials with the clinic and not be as cooperative or open to the same food trials at home."
No matter the location of therapy, a child has to build a relationship with their therapist. Ella now receives physical and speech therapy at a clinic. It can take Ella awhile to get comfortable in a new environment, but "consistency is key, and trust is earned between my daughter and her therapists," Smoot says.
To make the best therapy decisions for your child, be sure to evaluate changing needs with age and health and as the child's personality blossoms.
"You can get great therapy in either environment," Smoot says. "It is a matter of skill and creativity of the therapist and what works for the child and parent."​
---
Vanessa Infanzon is a freelance writer and mom to three boys. She writes at eSpeciallyBen.com.