Climbing to New Heights at Brookstone School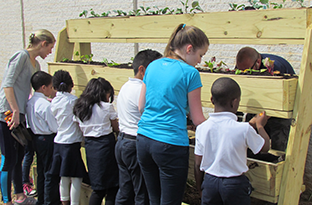 Keeping up with the trend for gardening in urban areas, Brookstone School students are growing green thumbs thanks to a new vertical garden at the school's location in uptown at First Baptist Church. The school's location uptown limits its green space for students to grow their own fruits and vegetables, but didn't squash the school's desire to include gardening in teaching kids about healthy eating.
Charlotte Catholic High School Senior and Senior Girl Scout Katherine Smith heard about the lack of gardening space, and began researching the concept of building a "living wall" vertical garden for her Gold Award Project. In March, she and 17 volunteers constructed a 9-by-5.5 foot tall vertical garden that has a depth of 2.5 feet. The vertical garden gives students plenty of gardening space without taking up a lot of playground space, and is perfect for growing radishes, kale, cabbage and beets. The team also installed a 4-by-12 foot raised bed for students to grow larger root vegetables, fruits, and flowers like sweet potatoes, tomatoes and sunflowers.
Volunteer nutritionist, Elizabeth Stamas, gave the K-8 students a lesson on nutrition at the gardens planting party, and students will harvest and eat the produce in a few months. Any extra produce will be shared with Friendship Trays, Charlotte's local Meals on Wheels program.