Clean Up Your ROOM!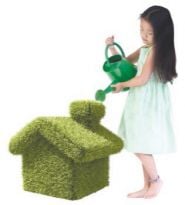 "Clean up your room!"
"Why? It's fine!"
"It's a DISASTER!"
Has this sort of exchange ever happened in your house? If so, you're not alone. Parenting experts Jane Nelsen, Lynn Lott and H. Stephen Glenn, authors of the Positive Discipline series, say kids' messy rooms are one of the top two complaints from parents of children of all ages. (The other top complaint is homework – but that's a subject for another article!)
Battles over cleaning (or NOT cleaning) their bedrooms had become a weekly sore spot between me and my two kids. Something had to give.
"It is possible to have a semblance of order in your children's rooms," say Nelsen and co-authors in Positive Parenting A-Z. They made it sound so simple. I wanted to know: HOW?
Through extensive field research with both parenting and home organizing experts, I learned that there are two critical components to addressing room-cleaning battles: first, setting up kids' bedrooms to "facilitate" cleanliness, and second, setting up a routine and an agreement with your kids to keep it clean. Here is what I learned from the experts.
Clear the Clutter
"Many room-cleaning battles are really about clutter," says Cricket Jaber, a home organizing expert. Jaber recommends periodically clearing out all toys, clothes, books and other items the child has outgrown.
"Sort everything into four categories: keep, recycle, donate or toss," she advises. "Then get 'recycle', 'donate' and 'toss' items out of the house — quickly!"
This step alone freed up an amazing amount of space in my kids' rooms.
Nelsen, et al, recommend an additional step. If the pile of possessions your child wants to keep is still too large, "suggest that she choose some to put on a shelf and take down later." When she gets bored with what she has, swap what's in storage with what she's been using and voilá — she's got "new" stuff and you didn't have to spend a penny!
Provide Tools for Organizing
"Containers are essential to getting organized," advises Jaber. She sums up her holistic philosophy on organizing this way: "Kids might not realize it, but clutter around them is confusing and overwhelming … like a dark cloud overhead. When the clutter is gone and they know where things are, they feel free, energized."
After my two kids de-cluttered their rooms, we worked to make effective (and creative) use of all kinds of containers, from shoeboxes to hampers, to keep everything else organized.
My son commented, "My desk is great now — there's more storage and I can find stuff."
With younger children, this is an opportunity to teach basic sorting and organizing skills — by color, type of item or any other criteria. Make a game of it, and give them lots of positive feedback when the "game" is over and their room looks great.
For teens, Nelsen, et al, suggest going to the store with your teen to pick out storage items. They can find fun colors and styles that might even encourage neatness!
Arrange Rooms Effectively
Next, look at how the child's bedroom furniture is arranged. Jaber's company, Designwise, specializes in helping families re-style their rooms for optimal comfort, style and traffic flow. "When the furniture is arranged well, the room will feel more inviting to the child," says Jaber. And it doesn't have to cost a lot. "There are always new ways to use what you already have to give a room a whole new look," she adds.
In my kids' rooms, we created cozy reading nooks, music centers, and well-organized study areas by creatively rearranging and adapting furnishings we already owned.
Give Kids a Voice in Room Décor
Nelsen, et al, suggest, "Let children have a say in how their rooms are decorated … it is important that their rooms be theirs and not yours."
Jaber agrees. "Once they become involved in the process, they begin to feel a sense of pride and ownership of their things and surroundings." She suggests letting younger kids choose small decorative items or pictures for the walls. For teens, she recommends setting a budget and allowing them to select posters, pillows, bed linens or decorative items for their bedroom.
"Inexpensive, small touches make a huge difference to a child," she adds.
Posters and pillows were the ticket for my son.
All my daughter wanted was to be rid of her large antique bed. So we removed it, and set her mattress and box spring on the floor in a small nook. "Before, my room was too old fashioned," she said. "Now it's cool!"
Show Them How
Kids aren't born knowing how to clean their rooms — they have to be taught. Nelsen, et al, recommend cleaning with young children, and offering a choice to teens on whether they want to clean alone or with your help.
Jaber distinguishes between cleaning and "picking up." "Be clear with your kids about which you want them to do. The biggest issue is usually getting kids to pick up the clothes, toys, books and other items that are strewn around." We adopted an easy system for dealing with clothes (both clean and dirty) and creative tricks for "picking up" quickly. (Hint: The right setup inside the closet is key!)
"I have room to move around now without tripping over things," says my daughter. My son agrees. "I can actually get from my bed to the door without stepping on stuff!"
For cleaning, show them how to use basic cleaning instruments like a dust cloth and vacuum. Give older kids their own set of basic cleaning supplies (duster, handi-wipes, and non-toxic cleaning agents) or at a minimum, make sure they know where to find the supplies.
Make an Agreement and Follow Through
The final step is to make an agreement with your child about cleaning his room. "The most important part for parents is to be willing to COMPROMISE," says Jaber. "Come up with a plan both you and your child can agree on."
Nelsen, et al, emphasize the need to establish a date and time "deadline" — whether daily, weekly or monthly — by which the agreed-upon cleaning chores are to be completed. Then, when the deadline arrives, simply follow through with your children by holding them accountable for what they've agreed to do.
They advise, "When the deadline arrives, if the child has not done what he agreed to do, calmly say, 'I've noticed that you didn't clean your room. Would you please do that now?' In response to objections, ask, 'What was our agreement?'"
But, they add, "If you aren't around to enforce the deadline, don't expect your children to clean their rooms."
As for our family, we've now successfully de-cluttered, organized, re-arranged, decorated and negotiated. My son describes his room as "awesome!" And my daughter says, "I like my room a whole lot better now, Mom!" So do I. Best of all, it was inexpensive and (mostly) painless!
So, peace reigns once again in our household … at least on the bedroom-cleaning front. Now, about that homework …
Sidebar
Top 10 Tips for Kids' Bedrooms: COMPROMISE
Clear out clutter and trash
Open your mind to negotiation
Make specific agreements
Provide plenty of containers
Rearrange furniture
Out of sight, out of mind (USE CLOSETS!)
Make room for something new
Identify wants & priorities
Semi-annual purge
Easy to maintain rooms stay cleaner!
Melanie Snyder is a former contributing editor for Family PC and mother of three computer savvy kids.