Chocolate Peppermint Crème Brulee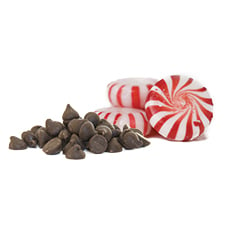 Nothing is more fun than a bite-sized dessert, and this one is just perfect for the holiday season. Find cute little holiday glasses about the size of a paper Dixie cup or use a clear glass votive candleholder. Find small plastic spoons at local party stores and you'll be set to serve.
If you want to mix up flavors a bit, feel free to change the toppings from crushed peppermint to crushed peanuts or pistachios, bits of crushed caramel brickle or a dusting of toasted coconut.
Ingredients
1 cup milk
2 tablespoons vanilla
1 cup semisweet chocolate chips
10 egg yolks
3/4 cup sugar
3 cups heavy cream
1 cup crushed peppermint candies
Directions
Warm the milk and vanilla. Add the chocolate chips a few at a time and stir until chocolate is melted. In another bowl, whisk egg yolks and sugar until light in color and fluffy in texture. Add the chocolate milk mixture and stir until smooth. Stir in the cream.
Ladle the mixture into a 9-inch square glass or ceramic baking pan. Bake for 45 minutes in a preheated 300-degree oven. Cool.
Pipe or spoon the mix into small cups. Chill until you are ready to serve. Top with a sprinkling of crushed peppermint candy dust (or peanuts, pistachios or caramel brickle) just before serving.
Heidi Billotto is a culinary expert who hosts cooking classes in Charlotte. Find more from Heidi at HeidiBillottoFood.com.