Chocolate Pecan Pie Tart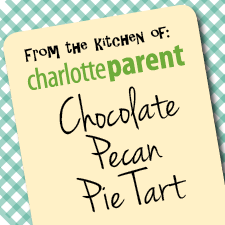 For a slightly more sophisticated pie recipe, there is my twist on a Southern pecan pie, in which I incorporate rich cocoa for that punch of chocolate. To make it just right, you'll also need a false-bottomed French tart pan – readily available online, in the kitchen/housewares section of stores like Target or at more upscale kitchens shops.
Ingredients
3 cups sugar
Pinch salt
7 tablespoons unsweetened cocoa
4 large eggs
1 tablespoon vanilla
1 1/2 cups whole milk
1 stick butter, melted 
2-3 cups pecan halves (be generous)
Two rounds of refrigerated dough, each rolled to a 12-inch round and fitted into two 10-inch French tart pans with removable bottoms
Preparation
Preheat oven to 350 degrees. Carefully fit the dough into each of the French tart pans, trimming edges to fit. Place each on a baking sheet.
Mix sugar, salt and cocoa together. Whisk together eggs, vanilla, and milk; stir into dry ingredients. Add melted butter and stir until well-blended.
Fill each pie shell two-thirds full with pecan halves. Pour filling over the pecans. Bake in preheated oven for 40 to 45 minutes. Cool on a wire rack. Makes 2 pies.