Children with Special Needs Find Strength and Hope Throught Horses at Shining Hope Farms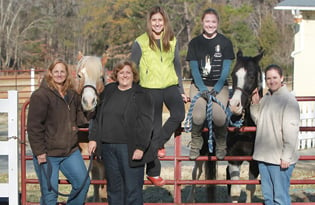 At Shining Hope Farms, children with special needs find strength and hope on the back of a horse.
The organization serves individuals with a variety of disorders, including cerebral palsy, autism, Down syndrome, developmental disabilities, brain injuries and hypotonia. The hippotherapy program, which uses equine movement for therapy treatment, serves most of the children at the farm. "The majority of our clients come away with better head and trunk control, speech improvements, confidence and the ability the follow directions," says Milinda Kirkpatrick, co-founder of the nonprofit organization. The farm environment is motivational, providing interaction with farm animals and the natural environment for therapeutic rehabilitation, skill building and adaptation.
For more, go to www.shininghopefarms.org or call 704-827-3788.