Children with Special Needs Build Stamina and Confidence Through Athletics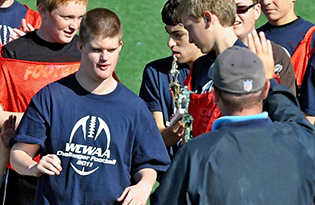 Six years ago, Gina Fisher found herself without an answer to her son Heath's question, "When do I get to play?" Heath, age 14, had watched his brother play baseball and wanted to do the same, but because of developmental delays and gait issues, he was unable to play on a regular team.
Children with special needs spend their time between school, therapy and doctor appointments. Forming friendships and finding recreational activities are harder to come by. Determined to create more opportunities for Heath and kids who face similar challenges, Fisher and her husband created Take On Sports, an organization coordinating sports for children with special needs.
Heath's involvement in sports helped relieve stress and improved his gait and self-esteem. An unexpected outcome was the emotional bond formed with other athletes and volunteers.
"Sports unify. Every player, every spectator is part of the event. It creates a bond, sometimes even without words," says Jolanda Hengstman, a 15-year veteran of Charlotte Mecklenburg School's adaptive physical education department.
Rory Kinane, a 16-year-old from Charlotte, participates in the 2013 World Special Olympics Winter Games in South Korea. While building friendships that extend beyond the playing field, athletes can also learn lifelong lessons of respecting others and contributing to a team. Rory Kinane, a 15-year-old from Charlotte, participated in the 2013 World Special Olympics Winter Games in South Korea in the speed skating event. Participation in sports is a driving factor in Rory's life, giving him goals to accomplish, teaching him to be tenacious, driven and competitive, says his mom, Stephany Kinane. These lessons have trickled into academic and recreational endeavors as well, she says.
Selecting the right sport for a child with disabilities involves interest, skill set and a bit of trial and error. Begin with an available sport that fits the family schedule, and then use cues from the child to determine whether to continue or change direction. Families can choose from more 20 sports through Special Olympics, Mecklenburg Therapeutic Recreation Department, YMCA's Miracle League, Take On Sports and Adaptive Sports and Adventures Program. Staff and volunteers make participation easy and affordable.
Nicholas Batley practices his commentating skills. Nicholas Batley, a spirited eighth grader with Asperger's Syndrome, played baseball in the inaugural season of Miracle League, a baseball league for children with special needs. Nicholas remembers his first time on the field, "It felt amazing to be a part of this special league. I felt like a happy person. It was cool." In addition to playing baseball, Nicholas wanted to test out his commentating skills. He requested permission and was given the opportunity. Nicholas took the first steps to realizing his dream to be an announcer for NASCAR sports.
Being involved in sports can lead to a lifelong love of athletics, which in turn helps individuals strive for a healthy lifestyle through exercise and athletics. Diagnosed with brittle bone disease and using a wheelchair for mobility, Taylor Lipsett started playing sled hockey at 15. Now 26, Lipsett plays on the USA Sled Hockey Team, which recently won the international championship. When asked what he's gained as an athlete, Lipsett says, "I became healthier, learned to set and achieve goals, and developed lifelong friendships," he says. "Sled hockey has helped shape the adult I am today." Lipsett stressed how being in a wheelchair can lead to a sedentary existence, but involvement in regular exercise through a sport can promote a healthy lifestyle.
It may take several attempts to find the right sport, but when you do, who knows what good things may come about.
Vanessa Infanzon is a Charlotte mom to Ben, 10, Logan, 8, and Sean, 5 and writes about adventures with Ben at eSpeciallyBen.com.