Checkered Dreams Makes Special Motor Sports Memories for Children With Special Needs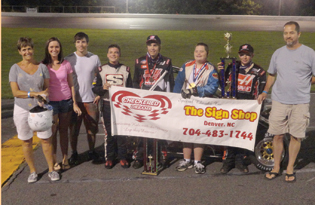 Checkered Dreams makes special motor sports memories for children with special needs.
Personalized for each family, Checkered Dreams works with local racetracks to offer free admission to a race and a buffet dinner. The child is announced at the drivers' meeting and is allowed to take a victory lap with a checkered flag. "They get a trophy, and they get a goody bag with as much stuff as I can get in there," says Sue Ziegler, who runs the nonprofit organization. The children can also get autographs. Checkered Dreams serves about two dozen families each year, usually two at a time, at various tracks, including Hickory, East Lincoln, Carolina and Concord.
Find out more at www.Checkereddreams.com or call 704-235-8948.