Charlotte's Speed for Need Helps Others Cross the Finish Line
Nonprofit helps those with special needs take part in races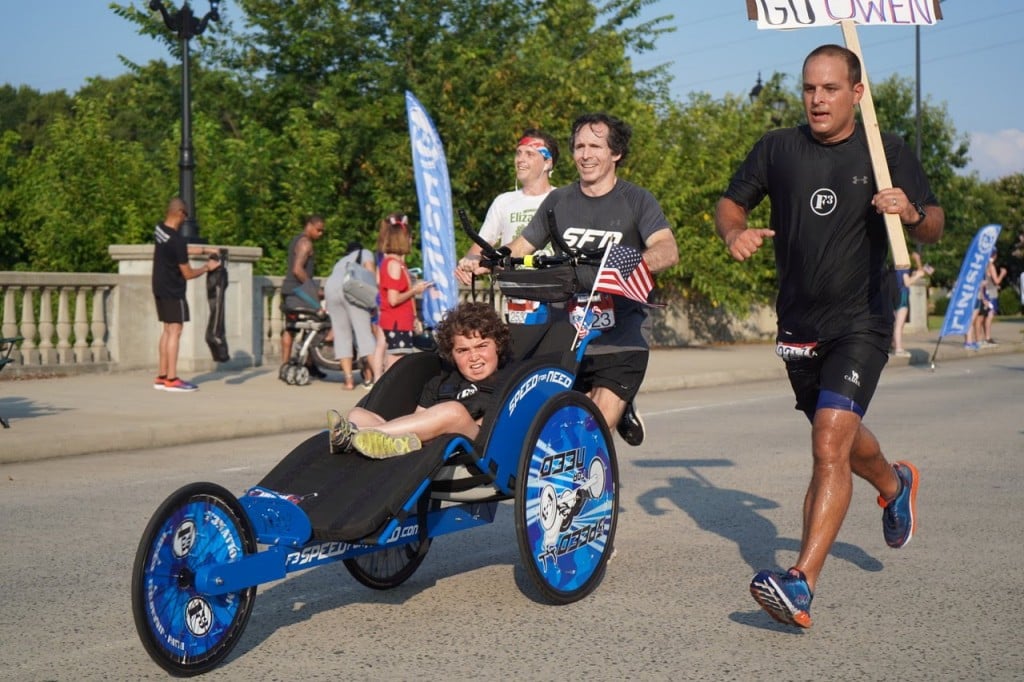 Wind blew through his curly hair. Heat from the sun beat down on his face. But nothing mattered to Owen Farr except the cheering crowd as he and his dad crossed the finish line at Run For Your Life's American 4 Miler on July 4, 2017.
Owen, 15, is a sophomore at Myers Park High School. He has Duchenne muscular dystrophy and is unable to run a race on foot, and he was the first person to cross the finish line in a Speed for Need racing chair. Will Farr, Owen's dad and an avid runner, pushed his son with 50 other men running beside them. "It's nice having people cheering me on and running with me," Owen said. "It makes me feel happy."
Speed for Need is a Charlotte-based nonprofit organization founded in 2017 by Owen's father, Will Farr, and fellow runner, Kevin Young. The organization owns eight racing chairs—each made in Dudley, Mass., at Team Hoyt Running Chairs. They cost more than $4,000, weigh at least 42-pounds, and are 7-foot long. They're specifically made to seat men, women, and children with someone behind the chair pushing them.
Will, 48, was approached by Kevin, 41, in early 2017 with the idea of starting an organization similar to Team Hoyt, a Boston-based organization founded by Dick and Rick Hoyt, a father-and-son running and racing chair team. Team Hoyt participated in more than 1,000 athletic events between 1977 and 2014.
Young's knowledge of Team Hoyt and his involvement with the Charlotte chapter of F3 Nation, a national organization of peer-led exercise programs for men, gave him the idea to start Speed for Need. "F3 men love to exercise; we're competitive and we want to serve the community," Kevin says. "I thought, 'Why don't we do something already in our wheelhouse?'"
Speed for Need's mission is "to raise awareness and foster inclusion of those with a special need through participation in fitness events." Speed for Need uses military terms for the team: the track commander is the person in the chair and the driver is the person pushing. Many of the drivers are members of F3, but all volunteers are welcome to participate. Track commanders have the opportunity to meet their driver before the race and share any concerns or special needs.
Will went along with the idea of starting Speed for Need because he liked the idea of sharing the running experience with his son. "I didn't really think, at the time, that we were building something that would become any bigger than that," Will says. "We might push a couple of kids and everybody celebrate and have a round of applause."
But something happened that neither Will or Kevin expected. People in the Charlotte community showed an overwhelming interest in volunteering with Speed for Need or knew someone who would benefit from being pushed in a chair at a racing event.
"This has the potential to be a lot bigger than we ever anticipated," Will says. "It caught us by surprise."
Since Speed for Need's first race in 2017, they've given 200 people rides in 60 races with the help of more than 1,000 volunteers. They partner with organizations such as the 24 Foundation, Isabella Santos Foundation, Susan G. Komen for the Cure and The Go Jen Go Foundation.
Upcoming races are Run Jen Run 5K on March 9, Dash for Down Syndrome on March 23 and LUNGE Strong 5K on March 30. Track Commanders may request to participate through Speed for Need's website. Volunteers may contact Speed for Need here.
Will and Owen continue to run together. They've been in six races since 2017. It means so much to have so many people running with him, Owen says. "People still get to go in the race even when they can't run."