Charlotte Transportation Options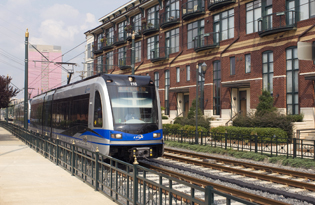 Charlotte can be a confusing transportation web for natives and newcomers alike. Public transportation is a great way to save money and even time on your work commute or a trip for a night out on the town. Avoid entanglement by reading these guidelines to ensure confidence when and wherever you travel!
The LYNX Blue Line is a 9.6 mile long light rail that runs from I-485 at South Boulevard to uptown Charlotte and is popular among people who work in the uptown Charlotte area. On weekends you can find families riding the LYNX just for fun, on their way to a show in uptown, or to visit one of Charlotte's many kid-friendly museums.
I-485 inner and outer loops make one big circle around the Charlotte area, extending to Matthews, Concord, Pineville and Huntersville. Directions signs can be misleading since it is one loop. The best way to think of it is as a clock, with the Charlotte's center city in the middle. If you are traveling clockwise, then you are on the outer loop, and if you are traveling counter-clockwise you are on the inner loop!
Other major highways in Charlotte are I-85 that runs from Mecklenburg County to Gaston and Cabarrus Counties, and I-77 that runs north to Iredell County and south to Fort Mill and South Carolina. I-277 is a loop that runs around uptown and connects major highways to Highway 74 East or Independence Boulevard, another of Charlotte's major arteries in and out of town.
Public transportation is booming in Charlotte. Options include bus, light rail, trolley and B-cycle bikes that can be rented for cruising around uptown. bcycle.com
Going out of town? Charlotte Douglas International Airport is one of the busiest airports in the world and offers more than 140 nonstop destinations!
Charlotte is a bike friendly city with many of the major roads incorporating bike lanes for all the two wheelers out there.
See the town in a whole new way with one of Charlotte's awesome segway tours! charlottenctours.com
Queens Road Confusion
In the lovely Myers Park area there are three different Queens Roads. Here is how it works: When traveling to uptown on Queens Road, you have to turn left on Queens Road because the first one turns into Morehead Street. From there, you must turn right on Queens Road because that road ends and turns into Hawthorne Lane! Confused yet? When in doubt, use the navigation feature on your phone, or go back to the basics with a map of Charlotte.
Read more: 
Hot Tickets: Sporting Events in Charlotte