Charlotte Teen Bites the Big Apple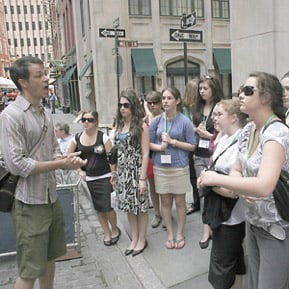 The age of carefree high school days are over. As high school students, my friends and I are constantly reminded of the competitiveness of college applications. Our schedules are loaded with challenging classes and extracurricular activities, but each of us is looking for that something extra to put us ahead of our competition.
Instead of spending high school summers going to overnight camp or lounging around by the pool, many teenagers, like myself, are opting to spend their "free" time doing something a little different. While college and career-prep summer programs used to once be an unnecessary "bonus" on your resume, such programs are quickly becoming the norm. Here's why:
Competition.
It's no secret that colleges are becoming more competitive. In fact, most teens start hearing the phrase, "Prepare for college," while we are in middle school! As for me, I did some research and found that BBYO, an international Jewish teen movement, was launching Project NYC, a 10-day business experience in the city that never sleeps.
Designed to immerse teens in the fields of business, entertainment, marketing and fashion, I knew that such a program would be the best way for me to explore the college majors I am considering. Naturally, my parents were thrilled that I wanted to do something more useful with my summer and agreed to let me go. I don't think any of us could have anticipated what this trip would do for me. Aside from meeting 19 extraordinary teenagers from all over the country, I learned and experienced things that I would have never had the opportunity to do anywhere else — things that definitely put me a step ahead of my competition.
Networking. Another common pressure point for teens is networking. While on my trip, I had the privilege of meeting many leading industry professionals. Whether we were meeting with the editors of Seventeen magazine, the NBA's Director of Marketing or at NBC Universal talking to news correspondents and producers for shows such as "Dateline NBC" and "The Today Show," I made connections that will undoubtedly help me in the future. For example, once in college, many students look for summer internships. Because of Project NYC, not only do I have contact information for potential employers, but I actually have standing internship offers.
Real World Experience. Teens today live in virtual worlds filled with personalized content creation and college and career-prep programs are meant to ease our transition into the "real world." Throughout the 10 days, Project NYC put me in real-life business situations, in which I had to use critical reasoning and teamwork to be successful, such as splitting us into four teams to create a business plan for an imaginary business for a retail space in Manhattan. We had to plan out every aspect of our company and later present it to a panel of judges. Also, on our first full day in New York, we attended a college seminar at Baruch College that gave us a "crash course" introduction to entrepreneurship.
Technology. Being exposed to the lingo and technology of business was a huge part of what made Project NYC so innovative. While learning about stock market trends, we had the privilege of experiencing a Wall Street trading floor simulation at The Subotnick Center at Baruch. I loved the idea of being able to experience and learn about something while it was going on right before my eyes. Also, while at "The Today Show," we had an opportunity to tour backstage and see all of the various computers, equipment, screens and people needed just to make the show function on a daily basis. I never realized how much effort was required for a single show to air.
Advice. One of the highlights of my trip was the Q & A time we had built in for every speaker. I looked forward to this part the most because I figured, who better to learn from than those who have not only been in my position before, but who have also risen to the top. The professionals were open to all of our questions, and gave us useful advice about college, getting into the business world and life in general.
Having experienced Project NYC this past summer, I feel it is important that both teenagers and their parents are exposed to the benefits of college and career-focused summer programs. The things you experience and the people that you meet during these trips can't be found in a high school classroom or bagging groceries. A quick Internet search will produce multitudes of options for teens with all kinds of interests. When it comes to college admissions and your future, it's time to think outside the box.
For more information on Project NYC, as well as requirements for participating, visit www.bbyo.org/experiences or contact Julie Fishman at jfishman@bbyo.org or 202-857-6562.