Charlotte Restaurants Open on Thanksgiving 2019
Why not let the pros take care of the turkey?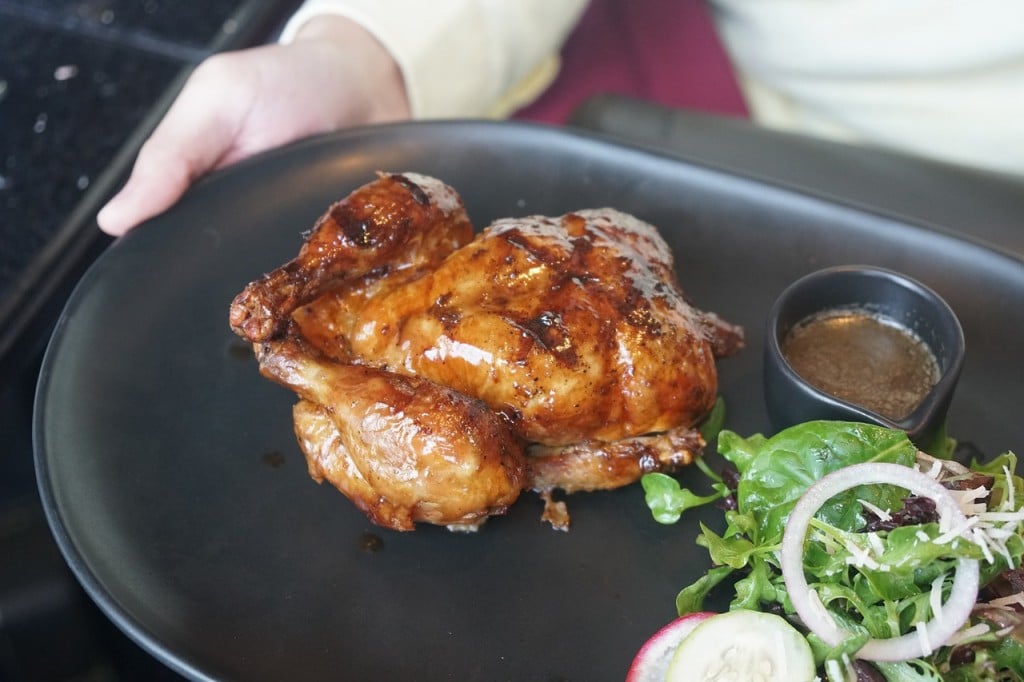 IF YOU'D RATHER LEAVE the cooking to someone else this holiday, here are nine Charlotte restaurants that will be open on November 28 to host your Thanksgiving Dinner. Just book your reservation, show up, and bring your appetite. Then leave the cleanup—and stress—behind.
---
5Church
127 N. Tryon St., #8
704-919-1322
Thanksgiving Hours: 11 a.m. to
Reservations: Click Here
5Church offers guests a pre-fixe, three-course Thanksgiving menu with both traditional and chef-inspired options. The first course is your choice of sweet potato bourbon bisque or kale salad. Next up is brined and roasted turkey, blackberry peppercorn glazed smoked ham, spaghetti squash noodles, filet mignon, or seared sea scallops. For dessert, take your pick of sweet potato pana cotta, cranberry apple tartlet, or s'mores trifle. Cost is $48 per adult and $20 for children under 12. Add a two-course wine pairing for an additional $15.
---
The Asbury
235 N. Tryon St.
704-342-1193
Thanksgiving Hours: Seatings at 12 p.m. and 3 p.m.
Reservations: Click Here
Head to the Dunhill Hotel for a traditional Thanksgiving dinner at the Asbury. Fill up on Southern favorites like spiced pumpkin soup, herb-roasted turkey, fried Brussels sprouts, and more. The three-course pre-fixe meal with family-style sides is $55 plus tax and gratuity for adults, $25 for kids ages 6 to 10, and free for children age five and under. Reserve your table for one of two seatings; the first at 12 p.m., and the second at 3 p.m.
---
Harper's Restaurant
6518 Fairview Road
704-366-6688
Thanksgiving hours: 11 a.m. to 4 p.m.
Reservations: Click Here
Harpers' SouthPark location in Sharon Corners serves up a traditional Thanksgiving feast with your choice of slow-roasted turkey, honey-baked ham, and prime rib. Sides include cornbread stuffing, collard greens, and sweet potato casserole, and dessert is your choice of pecan pie, apple crisp, or pumpkin pie. All the meals come with warm jalapeño cornbread with cranberry chutney, too. Cost is $32 per adult and $15 per child ages 12 and under.
---
Eddie V's
101 S. Tryon St., #100
704-333-5262
Thanksgiving Hours: 11 a.m. to 8 p.m.
Reservations: Click Here
Come for a traditional holiday dinner with all the trimmings. Turkey with gravy, cranberry chutney, mashed potatoes, and pumpkin pie tartlets are all on the menu. Adults are $43 and children are $15. And if you'd rather abandon tradition in favor of lobster, the full seafood menu will be available as well.
---
Upstream
6902 Phillips Place
704-556-7730
Thanksgiving Hours: 10 a.m. – 4 p.m.
Reservations: Click Here
Treat the family to a Thanksgiving buffet at Upstream, where everyone can fill their plate with exactly what they want. The spread includes assorted sushi and shellfish, fresh salads and greens, and classic holiday sides like mashed potatoes and mac 'n' cheese. Head to the carving station for traditional turkey, or try the CFT: Charlotte Fried Turkey. If turkey isn't what you're craving, there's also salmon, pork shank, and prime rib. Just remember to save room for the dessert bar. Cost is $42.95 per person, and $14.95 for children 12 and younger.
---
Fleming's Steakhouse
210 E. Trade St.
704-333-4266
Thanksgiving hours: 11 a.m. to 8 p.m.
Reservations: Click here.
For $45, the pre-fixe Thanksgiving menu includes lobster bisque, herb-roasted turkey, family-style sides, and desserts that include pumpkin cheesecake and chocolate gooey butter cake. For ardent steak eaters, the main dining menu is also available, and children can enjoy a three-course meal for $22.
---
Angeline's
303 S. Church St.
704-445-2540
Thanksgiving Hours: noon to 7 p.m.
Reservations: Click Here
Feast for a good cause at Angeline's, where 10 percent of the proceeds from your Thanksgiving dinner go toward No Kid Hungry, a nonprofit that works to end childhood hunger. Enjoy a three-course family-style dinner with Italian-inspired options like cranberry ricotta crostini, citrus-brined turkey, cornmeal dressing, and pecan pie with chocolate ganache and maple gelato. Adults are $55, kids ages 5 to 12 are $25, and children under 5 are free.
---
BLT Steak
110 N. College St.
704-972-4380
Thanksgiving Hours: 3 to 6 p.m.
Reservations: Click Here
You don't have to be a hotel guest to have Thanksgiving dinner at BLT Steak, located inside the Ritz-Carlton. Locals and visitors alike can enjoy the pre-fixe menu that includes one appetizer, a main course, and dessert, plus an assortment of family-style sides. Expect butternut squash soup, turkey with chestnut stuffing and cranberry-grenadine sauce, seared Scottish salmon, roasted prime rib and rosemary gravy, and desserts like a chocolate tart and carrot cake. Adults are $82, and children ages 10 and under are $40.
---
Stoke
100 W. Trade St.
704-353-6005
Thanksgiving Hours: Seatings at 12 p.m., 2:30 p.m., and 5 p.m.
Reservations: Click Here
Have your Thanksgiving meal at Stoke, where Chef Groody cooks a four-course meal for the whole family. Feast on deviled eggs, cornbread, mushroom and Carolina Gold rice bisque, smoked turkey with herbed turkey gravy, roasted sweet potatoes, brioche and mushroom bread pudding, green bean casserole, and so much more. For dessert, treat yourself to a festive take on Stoke's signature one-pound doughnut that's inspired by holiday pies. Adults are $60, kids 10 and under are $25, and kids under 3 are free. Make a reservation for one of the three seating times: noon, 2:30, or 5 p.m.