Charlotte Ranked as a Top 5 Up-and-Coming Fitness City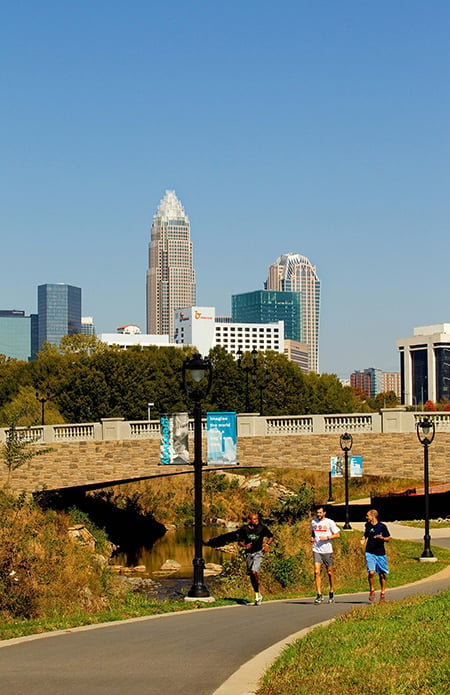 Charlotte has earned another accolade as one of the top five up-and-coming fitness citiies across America per "Women's Health" magazine and Yelp. I'm really not surprised because no matter what time of day, I see people walking, running and biking around town. The poll recognized Charlotte for its variety of fitness classes and studios, including yoga, aerial classes, pilates and spin.
What I also love about Charlotte, is seeing families out being active together. Expect a traffic jam of scooters, bikes, strollers and kids zipping around at Freedom Park or on the greenways on a lovely spring weekend. Charlotte's great weather and variety of parks and walking trails just makes it an awesome place to get out play with the family. But as a mom who likes to have some time to herself and also exercise, I love the choices of classes in this city. Yoga is a go-to for me, but I also am fascinated with barre classes, and sometimes find my serenity on an elliptical machine at the Y.
Our annual Fit Family Challenge is kicking off April 21, and runs through June 15. The program is meant to entice families to get moving together toward a healthy lifestyle through free fitness classes, expert advice, nutritional information and a convenient online tracker, plus great prizes, including a grand prize family vacation to Universal Orlando Resort. You don't want to miss out on this program, so mark your calendar — registration begins April 1. As part of the program, two families — the Bacons and McMasters — are making their families Fit Family Challenge journey open for you to follow. Meet them here. Also be sure to mark you calendar for upcoming family-friendly fitness events. We'll be at the Girls on the Run 5K in Huntersville April 25, and also at EarthFest at Daniel Stowe Botanical Gardens, April 18-19.
To keep up with all that's happening with the Fit Family Challenge, go like our Fit Family Challenge Facebook page. And for a little motivation to get moving, check out the the graphic below for 50 Reasons to Exercise!