CHARLOTTE MOM WE LOVE: Kimsioux Montgomery
The style maven, expert thrifter, and mom of two talks about the importance of mentors, her mother's influence, and her obsession with red sofas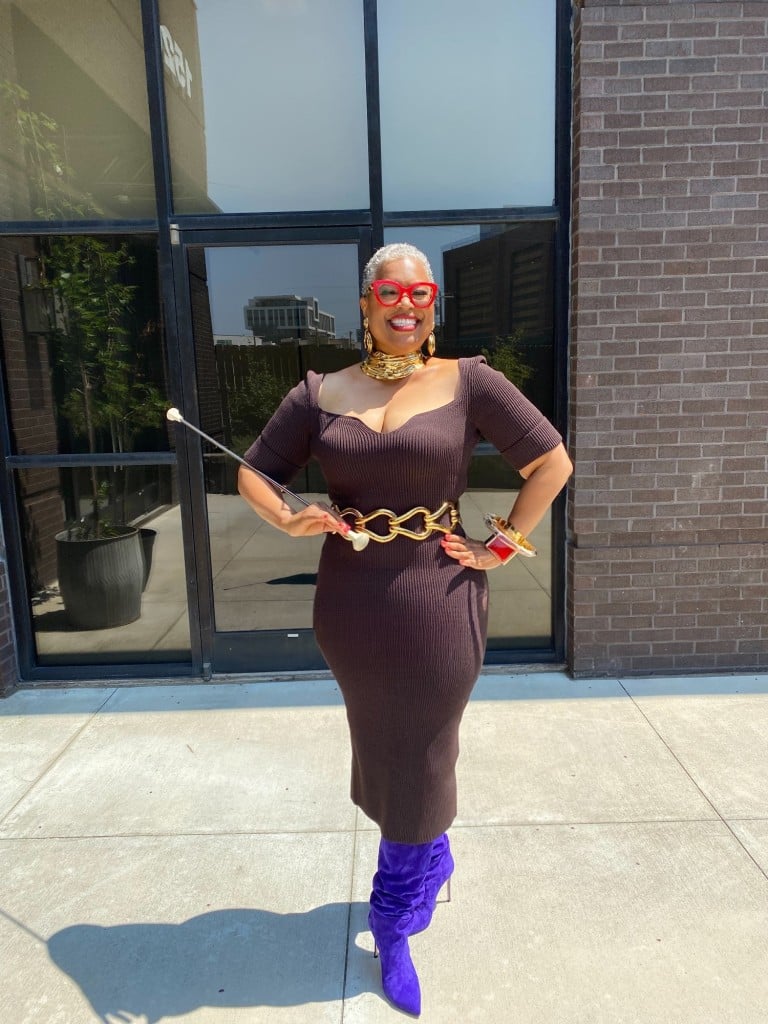 Tell us about your family. How many children do you have and what are their ages? My family consists of my global son, Brock Montgomery (16) (he has friends all over the world); my intelligent beyond-her-years daughter, Charli Ana (14) (who we affectionately call "Big Sister" because of how she handles situations with her older brother); and my world-mentor and problem-solving husband, Eric Montgomery. He truly has a God-given talent to solve problems and help others. I also have to include my beautiful mother-in-law, whom we care for, Betty Montgomery, who suffers from dementia.
What are you most grateful for this Mother's Day? I'm grateful for health, a very loving husband that protects me and is open to all of my millions of outrageous and crazy ideas, and I'm grateful that I've reconnected with my brother after little communication in over 20 years!
Hardest part about being a mom? The hardest part about being a mom is teaching humanity and raising confident and God-fearing kids in a world filled with stereotypes, racism, war, polarizing political views, social media, and the "effin" cell phone!
Favorite part about being a mom? I am by nature very nurturing, selfless, full of energy, unconventional, and very giving. I saw my mom open up our home to college students, loan her car to relatives, get sent home from corporate America for wearing a provocative sweater, and protect, love, and care for others who did not protect, love, or care for her. She could brighten up any room. I had no idea I would emulate this behavior as a mom.
Biggest parenting fail to date? I'm too hands-on. Kids say I'm too controlling. I say they should learn to advocate for themselves better.
Best parenting advice you ever received? Raising kids is part luck!
Marriage advice for new parents? Egos have no place in a marriage. It's worth staying married…who else is going to stand in line at the DMV, hold the umbrella over you while they get wet, and kill snakes, lizards, and water bugs for you? I love my husband.
Parenting support you could not live without? I could not live without my special village of mentors who surround my children. Once, my son traveled to Spain and I'm half-scared of flying. My nephew-son, Stephen, renewed his passport and flew over to Spain to get him and even took him to a professional soccer game. My kids are surrounded by entrepreneurs, tutors, politicians, business leaders, public speakers, and self-starters. My husband is the "real deal" and I couldn't raise extraordinary children without him!
Phase you feared your child would never grow out of? Speaking up for themselves. They'll re-stand in a line of 20 people just to tell the barista they forgot to add the cup sleeve. Go to the front and ask for one!
Favorite way to spend an unscheduled day with your kids in Charlotte? I don't know what an unscheduled day is so I have no idea how or what to do. I'm always in two places at one time!
Guilty pleasure? Rickie Lee Jones music, pork skins, and red sofas. At one time I had five red sofas in my home.
You have a whole day to yourself. What do you do? I'm out riding looking at beautiful homes, stopping at local coffee houses, visiting antique stores, and talking loud while visiting friends and family!
Favorite Charlotte restaurant? Supperland, Sunset Grill, and Omaggio's
Favorite place to shop in Charlotte? My Instagram handle is @TwirlingThrifter. I was a majorette in high school and college (Aggie Pride), so I combined my love for twirling and thrifting. I can find a hidden treasure in any thrift store and I'll almost always have my baton with me. I do love Anthropologie for my daughter, Dressing Room Interiors for my home, Perry's for my fine jewelry, Girls Supply (unique pop-up concept) Birkdale Village, and I secretly love Dillard's shoe department!
What local amenity/retailer/service could you not live without? I could not live without Rideshare, Amtrak, coffee houses, DHL, Fedex, WhatsApp, PayPal, lawn care, pest control, and Neiman Marcus.