Charlotte Mom – Rebecca Clark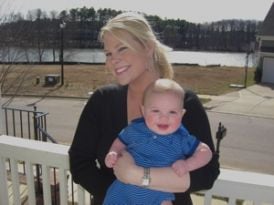 Reality Check
Take a peek inside the life of local mom Rebecca Clark and get a glimpse of everyday parenting — from the madness to the mess-ups!
Vital Stats: Rebecca Clark, 36
An anchor/reporter for Fox Charlotte, Fox News at 10 p.m. Emmy award, AP awards.
Family Tree:
Married to husband, Matt, and mom to Charlie, 6 months, and one spoiled cat, Gracie. The family lives in Davidson.
Get Real:
Being organized helps me think, but as a new mom, it's impossible to have anything in place … it's chaos!
"Dont You Dare:"
Everything he does right now is adorable, but usually just as I fall asleep, he wakes up and then doesn't seem to want to nap during the day.
Parenting Rule No. 1:
Not many rules for an infant, but once we get a routine that works, we stick with it, because he thrives on consistency.
Fave Phrase:
"If I can sleep, you can sleep!" (We have a theme with sleeping).
Spill It:
It's embarrassing taking him shopping and then spending an hour in the dressing room feeding him, as every sales person asks, "Is everything alright?"
Top Tip:
Even when you want to reclaim your home, never refuse help from family and friends — learn to give up some control.