Charlotte Hornets Make a Comeback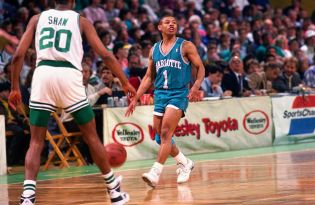 The buzz about the local NBA team and its name
From a distance, patches of purple and teal blurred, and "The Hive" buzzed in anticipation of the announcer introducing "YOUR Charlotte Hornets!"
The Hornets were pitted against the Chicago Bulls on April 23, 1993 and it just happened to be Michael Jordan's final game before his initial retirement to play baseball. It was touch and go. Larry Johnson poured on 31 points and finally, unbelievably, Alonzo Mourning blocked a Chicago shot at the buzzer for a 104-103 win.
"It was one of those moments that makes you a fan for life," says Jon Martin, who attended that basketball game at 7 years old with his father. "Even after all these years, the 1992-'93 Hornets are probably my favorite sports team in history— LJ, Muggsy, Zo, the playoff win against Boston, the whole year was just magical."
The original Hornets joined the NBA as an expansion franchise in 1988 and spent 14 seasons in Charlotte before being moved to New Orleans by former owner George Shinn in 2002. Two years later, Charlotte welcomed the newest expansion team, the Bobcats. After Bob Johnson, founder of Black Entertainment Television, ran that show for several years, Michael Jordan purchased a majority stake in the Bobcats in 2010. That same year, George Shinn sold the Hornets franchise to the NBA. Two years ago, the league sold it to Tom Benson, who sought to change the name to the Pelicans, leaving the Hornets name once again available.


Subsequent polling showed that Charlotte fans overwhelmingly supported the revival of the Hornets name, and Michael Jordan began the process of reclaiming the name. In May 2013, it was a done deal; and the Charlotte Hornets returns to its original hive for the 2014-2015 season. Teal and purple are coming back and so will Hugo the Hornet, though he will be modernized with a more aggressive look.
"The Hornets name is very special to the city of Charlotte," says Pete Guelli, EVP and chief sales and marketing officer for the Charlotte Bobcats. "The Hornets were Charlotte's first major professional sports team and were highly successful both on and off the floor. We are ecstatic to be bringing this hallowed name back to the city of Charlotte."