Charlotte Farmers' Markets and Pick Your Own Farms
Your guide for locally grown produce and meat for your family.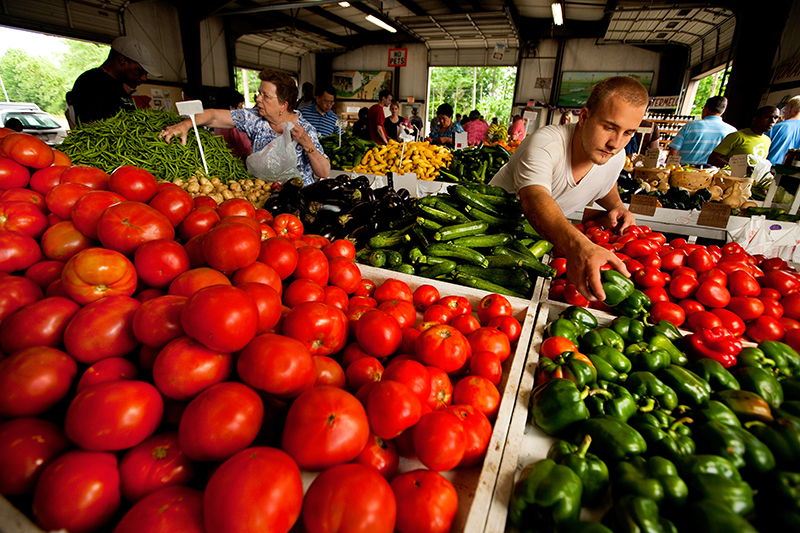 ---
Editor's note: Check website or call for operating hours of each market.
If you're looking for fresh produce, fruit and other locally grown goodies you'll find exactly what you're looking for at any of the following farmers markets.​
---
2104 South Blvd., Charlotte
---
1801 Yorkmont Road, Charlotte
---
309 S. Sharon Amity Road
---
Main and Jackson streets, Davidson
---
Rescue Squad Park, 7835 Galway Lane, Denver
---
410 E. Long Ave., Gastonia
---
Huntersville Elementary, 200 Gilead Road, Huntersville
---
189 Williamson Road, Mooresville
---
938 S. King's Drive
---
225 West Water St., Lincolnton
---
188 N. Trade St., Matthews
---
1515 Harding Place, Charlotte
---
7601 Matthews-Mint Hill Road, Mint Hill
---
130 S. Main St., Mount Holly
---
NoDa Company Store
3221 Yadkin Ave., Charlotte
---
129 Oakland Ave., Rock Hill, SC
---
300 E. Main St., Rock Hill, SC
---
105 Dover St., Pineville
---
2007 Commonwealth Ave., Charlotte
---
1619 Waxhaw-Indian Trail Road, Waxhaw
---
Providence | 10636 Providence Road
Mint Hill | 11252 Lawyers Road
Rockstore | 3116 Old Monroe Road, Matthews
Providence South | 1316 Providence Road S., Waxhaw
---
1325 Hwy 160 West, Fort Mill
803-547-7563
---
805 Skyway Drive, Monroe
---
208 N. Church St., Waxhaw
---
Pick-Your-Own Farms
---
Strawberries, peaches, tomatoes, citrus fruits and apples
1800 Black Hwy., York
803-684-2333
---
Strawberries, blueberries, pumpkins
1650 Filbert Hwy., York
803-684-2732
---
Apples, strawberries, pumpkins
1261 Oak Ridge Farm Hwy., Mooresville
704-664-1450
---
Strawberries and pumpkins
10713 Providence Road W., Charlotte
704-562-4021
---
Pumpkins and Christmas trees
3900 Rocky River Road East
704-494-0107
---
Strawberries, muscadines, pumpkins
10390 Caldwell Road, Mt. Ulla
704-797-0013
---
Strawberries and Pumpkins
4701 Hartis Road, Indian Trail
704-628-6232