Charlotte by the Neighborhoods
From hip to historic, Charlotte is a city of neighborhoods that mingle a variety of lifestyles.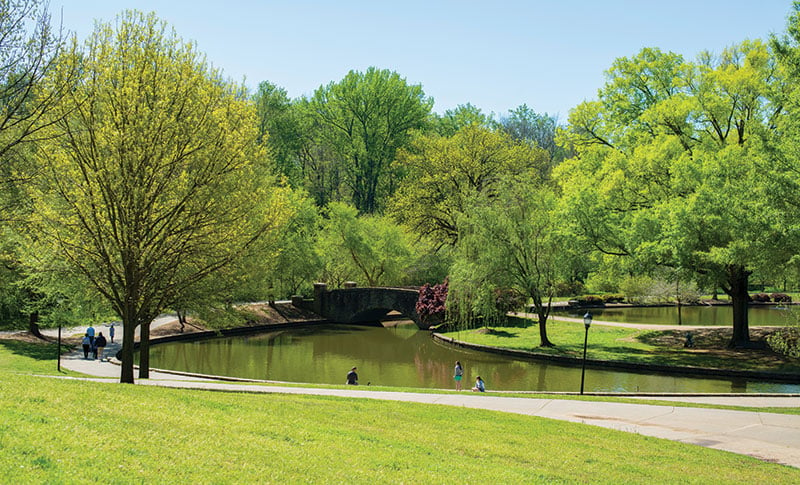 Charlotte's neighborhoods each have their own unique feel and flair, and many are rapidly growing. Read on to see which neighborhood fits your family's lifestyle.
---
Cotswold
A mix of 1950s brick ranch and split-level homes — some renovated, some not — share space with newly constructed two-story homes. The neighborhood is convenient to uptown and to many of Charlotte's private schools. Cotswold Village Shopping Center is the retail anchor with a grocery store, toy and pet stores, yoga studio and restaurants.
---
Dilworth
Shady streets with sidewalks and large craftsman-style bungalows and townhomes give this neighborhood charm. Freedom Park — home of Dilworth Little League and where many Charlotte Junior Soccer games are played — Discovery Place Nature, Latta Park and Little Sugar Creek Greenway are draws for families. Atrium Health's campus and uptown are in easy biking distance. Many families with kids of varying ages call Dilworth home.
---
Elizabeth
One of Charlotte's first street-car suburbs, Elizabeth is a historic neighborhood with large, stately homes. Families enjoy Independence Park for a sunny day of play and a mix of restaurants along Seventh and Hawthorne streets. Annual Easter and Halloween events bring families together. It's also a stone's throw from Novant Health Presbyterian Medical Center and Central Piedmont Community College.
---
Myers Park/Eastover
This is one of Charlotte's oldest neighborhoods, and boasts some of the most majestic houses and trees in the city. It is home to Queens University, Myers Park High School and Myers Park Country Club, as well as Park Road Shopping Center. Find the south end of Little Sugar Creek Greenway behind Park Road Shopping Center that connects to Freedom Park. Just west of Park Road Shopping Center are the neighborhoods of Montclaire and Montford that draw many young families for its convenience to uptown and more affordable homes.
---
NoDa
Known as Charlotte's arts district, NoDa, and neighboring Villa Heights, is a mix of renovated millhouses and new apartments. Following the art galleries that revived the area in the early 2000s, craft breweries, bakeries, music venues and new restaurants, as well as the expansion of the LYNX light rail north corridor and its close proximity to uptown, make NoDa attractive to artists and young professionals, as well as soon-to-be or new parents with babies.
---
Plaza Midwood
From quirky to contemporary, Plaza Midwood attracts families and young professionals for its mix of architecture and quick commute to uptown. Country Club Heights is Plaza Midwood's next-door neighborhood with smaller, brick houses with smaller price tags that attract many young families. Shady, sidewalk-lined streets make for easy strolls to coffee shops, the library and a plethora of restaurants. Midwood Park is the hub of numerous community festivals each year.
---
Southpark
Anchored by Southpark mall, this area boasts high-end retail boutiques and restaurants, and gated communities. It's also home to Symphony Park where the Charlotte Symphony Summer Pops concerts take place. Harris YMCA, one of Charlotte's largest Ys, is nearby and is a mecca for children's activities and summer camps.
---
Southend
If apartment living is appealing, Southend is for you. The area south of uptown is built around the Lynx Blue Line making it appealing to uptown workers who can avoid parking fees. New restaurants and breweries fill the gaps between apartments. Dilworth and its parks are a quick walk or bike ride away when you need more than a patch of grass to take out your pooch or let the toddler runaround.
---
Uptown
Uptown Charlotte is booming with business throughout the week and draws crowds in for nightlife on weekends. High-rise luxury apartments have popped up throughout uptown in the past few years with more on the horizon. Third, Fourth and First Ward neighborhoods also are a draw for residents who like living near the city's hub but prefer a house or townhouse to an apartment. Uptown is filled with parks and open spaces like First Ward Park and Romare Bearden Park, as well as many of the city's top cultural venues. Top ranked private school Trinity Episcopal School and Charlotte-Mecklenburg Schools' First Ward Creative Arts Academy are located in First Ward.
---
Wesley Heights
West of uptown, Wesley Heights has historic homes in a mix of architectural styles as well as newly constructed townhomes and apartments. A big draw is the mature tree canopy comparable to Myers Park. It is part of the growing west-side redevelopment. There aren't any major retail centers and stores here, but it is home to the infamous Pinky's Westside Grill (get the fried pickles), Rhino Market and is a quick walk to Bank of America Stadium and uptown.
---
Michele Huggins is the editor of Charlotte Parent. She grew up in Charlotte and is happy to raise her children here.