Charleston Eco Tours
Discover the low country's natural side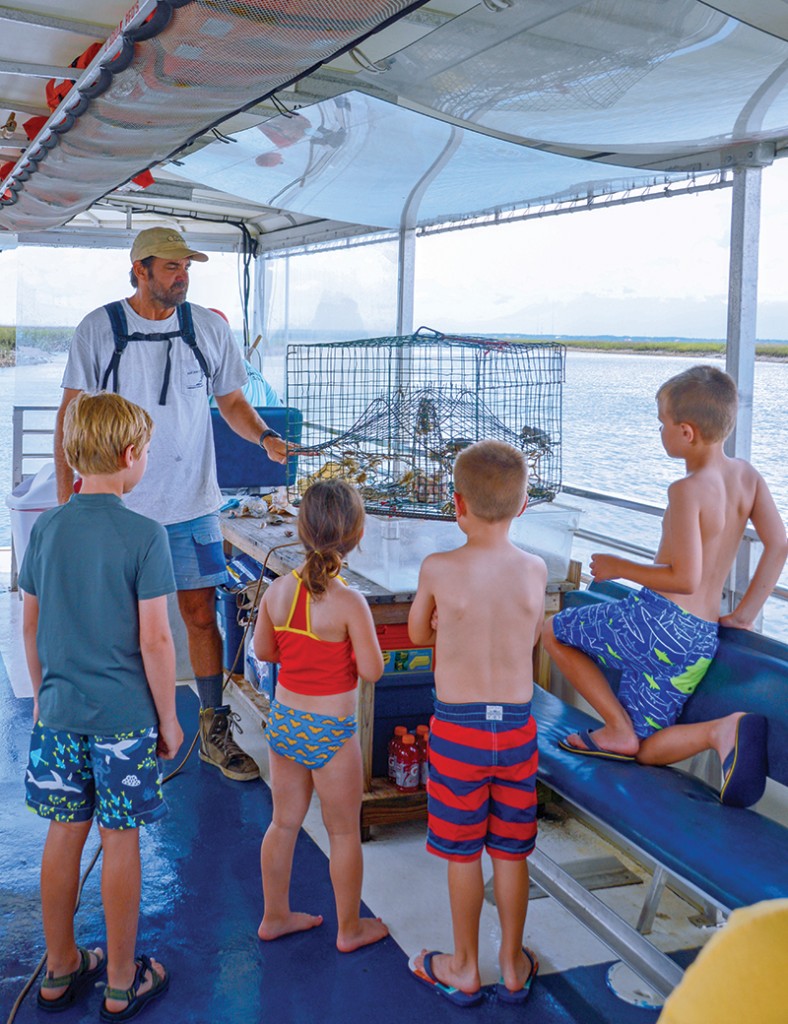 W
e are barely underway when our boat captain, Mike, announces that there are dolphins nearby. All 16 passengers — six children, six parents and four grandparents — clamber to one side of the boat to glimpse the mammals coming to the surface and diving again. Our Barrier Island Eco Tour Blue Crabbing Excursion is off to a great start, and we are already making discoveries along the South Carolina shoreline.
Motoring along the Intracoastal Waterway, Captain Mike makes a stop so that John, our onboard naturalist, can pull up a crab trap from the depths and onto the boat. Inside are stone crabs, blue crabs and plant life that John uses for "show and tell" — a ready-made marine classroom. John talks about each crab species, the impressive cutting and crushing power of their claws, and how a female lays millions of eggs over her lifetime. John also shows everyone how to catch crabs the old-fashioned way — with a handline and crab net.
Our next destination is Capers Island, an undeveloped barrier island located 15 miles north of Charleston. After Mike beaches the boat, he and John provide each of us with handlines, already baited with chicken necks, and a net for our crabbing attempts.
The children gleefully rush to the water's edge to try their hand at crabbing, seeking just the right place for sure success. Soon they leave their lines behind and begin splashing in small tidewater pools and playing impromptu games of tag. An afternoon of sunshine and exploration lay ahead for the children as they explore the island.
One of Capers Island Heritage Preserve's most beautiful features is Boneyard Beach. Its name comes from old, sun-bleached tree skeletons and stumps left on the shore from erosion. This area of deserted beach offers us a glimpse of what barrier islands looked like before beachfront houses and condos arrived.
The afternoon's grand finale is a crab boil. Mike and John have plenty of crabs for everyone to enjoy. When the time is right, and the crabs are perfectly steamed, Mike adds Old Bay Seasoning and dumps the crabs on two tables, arranging them around bowls of melted butter. John teaches everyone the proper way to crack open the crustacean for accessing the sweet meat.
Barrier Island Eco Tours leave from Isle of Palms Marina. The Blue Crabbing Excursion is offered Memorial Day through Labor Day, and costs $36 for ages 12 and younger and $46 for ages 13 and older. Ages 2 and younger are free. The company also offers a Capers Wildlife Exploration tour and Dolphin Discovery Sunset Cruise. Learn more at nature-tours.com.
For more information about the area, go to charlestoncvb.com.
Other Charleston-area Eco Tours
Sandlapper Water Tours: This two-hour Guided Nature Tour and Cruise of Charleston Harbor explores Charleston's abundant coastal wildlife and the Charleston Harbor area. Tours cost $25 for ages 11 and younger, and $35 for ages 12 and older. Ages 3 and younger are free. sandlappertours.com.
Tideline Tours: By boat or kayak, guests learn about the South Carolina coast and its many inhabitants. The two-hour Salt Marsh Adventure boat tour is offered year-round and costs $35 for children ages 12 and younger, and $45 for ages 13 and older. Kayak tours begin at $75. tidelinetours.com.
The Center for Birds of Prey: Eagles, owls, hawks, falcons and other birds of prey are presented in an entertaining and educational manner via guided tours and flight demonstrations. These and other programs are offered year-round. Tickets start at $12 for ages 6-17, and $18 for ages 18 and older. Ages 5 and younger are admitted free. thecenterforbirdsofprey.org.
Flipper Finders: The eco-tour company specializes in dolphin boat and kayak tours. Guests explore scenic waterways in search of dolphins. Adventures also include birding, shelling and exploring Morris Island Lighthouse. The Folly River Dolphin Boat Tour is offered March through early November and costs $35 for children and $45 for adults (ages not defined). flipperfinders.com
Where to Stay
Wild Dunes Resort on Isle of Palms is located close to Barrier Island Eco Tours and offers The Boardwalk Inn, The Village at Wild Dunes, vacation rentals, condominiums and cottages. Amenities include a private beach, golf, tennis and Dune Bug Club activities for ages 5-10. destinationhotels.com/wild-dunes.
---
Marilyn Jones is a freelance writer specializing in travel. Her articles routinely appear in magazines and major newspapers throughout the U.S. and Canada.