Changing Families: Holiday Tips for Blended Families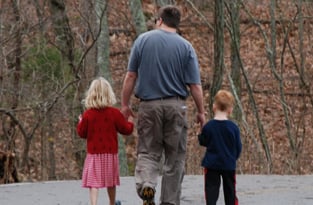 The holidays are right around the corner and some folks already are arguing about where, when and with whom they are going to spend time. Families of divorce especially struggle with how to split Thanksgiving, Hannukah and Christmas so that children get time with both parents.
Generally, this has always meant a lot of children attend multiple holiday celebrations, sometimes even on the same day. Or they spend the day with one parent and then make-up the holiday time with the other at a later date. Many children are shuffled back and forth so ex-spouses do not have to be together.
But more and more families are abandoning the model of separate celebrations, split holidays and stony greetings. Instead, divorced couples (even with new spouses in tow) are celebrating together and adopting an attitude of tolerance and understanding.
A number of trends have fueled this change. First, the introduction of no-fault divorce has helped to make divorce less acrimonious. Second, Gen Xers who grew up in broken homes are remembering and disliking how the "divorce war" was played out in their own childhood homes. Finally, more than 40 states now require parents to attend classes on co-parenting following divorce.
Parents are recognizing that it is so much more pleasant for their children, if the children can be with both parents without tension in the room. And to the surprise of many divorcees, they often forge a friendship with the new spouse.
Tips for a Happy Holiday Season for the Entire Family
1. Celebrate together. While it may be uncomfortable initially, most families report that tension quickly gives way to new friendships and relationships. It is not uncommon for parents and new stepparents to agree on what is best for the kids. Joint gatherings help children feel secure, and they still love both of their parents, even if they recognize that the marriage did not work. An early start makes future events, like graduations and weddings, less stressful for all involved.
2. Don't be selfish. While it may not be your first choice, the kids deserve their celebrations and time with both parents. You might be surprised how it also helps you heal after a painful split, and it gives you an opportunity to let go of some of the painful feelings, while remembering and celebrating the good things that came from the marriage.
3. Communicate and coordinate. Work out details of the activities so kids don't end up in the middle. A brief phone call or e-mail coordinating gifts, meals and get-togethers helps children to see you and your ex are united and working together. And be sure not to ask the kids to relay messages back and forth — pick up the phone and make the call yourself.
4. Establish new traditions. This is a great opportunity to strengthen family bonds with some new rituals and traditions. Consider celebrating at a vacation destination or resort, explore new ways to exchange gifts, and stock up on games everyone can play together. Building traditions is fun, and traditions keep families strong.
Barbara Bartlein, known as the People Pro, is a life coach and business consultant. E-mail her at barb@thepeoplepro.com or sign up for her free e-newsletter at www.thepeoplepro.com.