Chalk Talk: Summer Fun Reading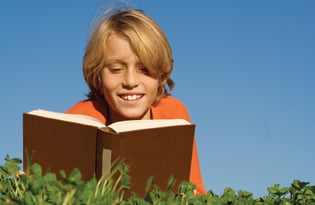 As another school year comes to an end, many parents will ask the same question: What can we do over the summer to help our child? The answer is READ! Reading is a skill that is essential for a student to be successful in school. Students who read during the summer gain valuable skills, and those who do not often experience a loss in skills.
Summer is the perfect time for allowing your children to explore and find what types of books they like. No need to enforce rules about reading, making them read a certain amount of pages or minutes each day. If they choose the book, they likely will want to read it without you cracking the whip.
For summer reading suggestions, check out About.com's "Top 10 2012 Summer Reading Lists for Kids and Teens."
Summer Reading Tips
Visit the library. Allow your child to pick out two or three books and get his or her own library card. The library has wonderful child-friendly activities in the summer and hosts a summer reading program that your child can join.
Be a good role model. Children learn a good deal more from our actions than our words. If they see you reading in the summer – the daily newspaper, a magazine or a paperback at the pool or beach – they see that reading is a part of life and can be enjoyable.
Do fun activities. Combine what your child is reading with an activity. For example, if he or she loves baseball, suggest the book "Stolen Bases" by Matt Christopher, and then take them to a Charlotte Knights game and count how many stolen bases you see during the game.
Christine A. Girouard is a teacher at Sharon Elementary.