Celebrate Spring at Come-See-Me Festival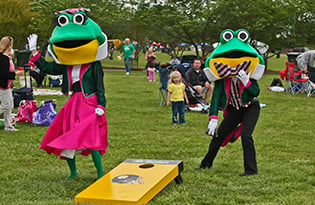 For more than 50 years, the Come-See-Me Festival in Rock Hill has been attracting visitors from all over the Carolinas. More than 100,000 visitors are expected at this year's festival, happening April 3-12. The festival kicks off with the Blooming Gardens parade that celebrates the many colors of spring throughout the city, followed by 10 days of family-friendly events held at various venues.
Artists of all ages come together to showcase their best art through the use of chalk at the Chalk on Main event. The Beach Bash is an evening of fun, food and of course the sounds of beach music, plus hands-on music stations and a Children's Kazoo Parade.
The Teddy Bear Tea Party on Winthrop University's campus is a favorite for little ones who can treat their favorite stuffed animal like a king or queen as they partake in light refreshments and play time with the other guests. Children ages of 3 and 6 get in free if they bring a new or gently used toy to donate to a local children's charity.
For just $2 a cup, everyone can enjoy ice cream along with story time by Mother Goose at the Sundaes With Glen and Mother Goose event. Story time alone makes this event a hit, but it gets even better with balloon twisting and more kid-friendly activities.
The last day of the festival offers something for all ages, including a Grand Car Show, Healthy Kid Aone, Everything Trucks and Fireworks Extravaganza.
Visit comeseeme.org for a full schedule of events.